'Final Fantasy 15' January Update: Carnival passport release date and other DLC details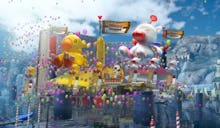 Back in December, Square Enix announced a downloadable expansion for Final Fantasy 15 called the Holiday Pack. The confusing part about this update is that it's rolling out in two waves. Some of the items in the pack are already available, but the second half won't unlock until Jan. 24, according to the Final Fantasy 15 Twitter account. There are also two different versions of the Holiday Pack: One for season pass holders and one for us plebs. It's all very confusing.
Here's the full breakdown of everything included in the Final Fantasy 15 January update and how to get it.
Final Fantasy 15 January update: DLC details
If you have yet to download the Holiday Pack, you can do so for free right now. Just tap down on the left thumbstick when you're hovering over the Final Fantasy 15 tile on your PS4's home screen and navigate down to the PlayStation Store icon. You'll see a link to the DLC there.
Here's what you'll have access to upon downloading the free version of the Holiday Pack, according to a blog post from Square Enix:
— Nixperience Band: A device that stops experience points from being tallied, preventing the party from leveling up
Once you've downloaded the Holiday Pack, you'll automatically get two more items on Jan. 24. Those items are:
— Choco-Mog Tee Shirt 
The Carnival Passport is an item that will grant access to the Moogle Chocobo Carnival, some kind of special area that will have new quests and items.
If you've got the season pass for Final Fantasy 15, you'll also have access to the Holiday Pack +, which has additional items the free version does not. If you want everything, you'll have to download both the free Holiday Pack and the Holiday Pack +. The extra items in the season-pass-exclusive pack are:
— Ring of Resistance: A protective piece of jewelry that renders the entire party resistant to magical friendly fire
And once Jan. 24 rolls around, season pass holders will get the following:
— Festive Ensemble
Square Enix hasn't explained exactly how the Moogle Chocobo Carnival will work — or how long it will last — but Mic will keep you updated as more details become available.
More Final Fantasy 15 news, updates, tips and tricks
Hungry for more Final Fantasy 15 coverage? Here's a roundup of the most mouthwatering food from Final Fantasy 15, a big list of tips and tricks, a guide to finding all the royal arms, a guide to fishing in Final Fantasy 15, a guide to changing your chocobo's color, a guide to finding a Sturdy Helixhorn, a guide to summoning, a review roundup from all the big gaming outlets, rumors about a PC release and Conan O'Brien's reaction to the game on his show.