The cheesiest cheese-based recipes to celebrate Valentine's Day the cheesiest way possible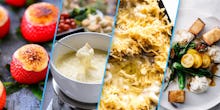 Face it: Valentine's Day is a ridiculously cheesy holiday. All the red and pink dyed desserts and heart-shaped foods and boxes of chocolate covered in cringe-worthy romantic quotes can be too tacky to tolerate, whether you're into celebrating the holiday with someone special or are trying to avoid February 14 at all costs. 
This year, embrace the cheesiness — with cheese, of course. Gather your loved ones or celebrate solo with cheesy Valentine's Day recipes that honor what this day is really about: Cheesiness. 
Breakfast mac and cheese
How cheesy is breakfast in bed? So cheesy. Just the smell of this baked egg mac and cheese will make your beloved start drooling on the pillow. Get the recipe here. 
Brie and butter grits with honey and raspberry compote
Up your regular oatmeal game with these fancy grits that are easy to make and look super Valentine's Day-ready. Get the recipe here. 
Date night mushroom pasta with goat cheese
There's something seriously romantic about gooey, sweet goat cheese. Whip up this pasta for a low-key at home date night that's just cheesy enough to eat by candlelight with a cheesy romantic playlist. Get the recipe here. 
Caramelized balsamic goat cheese pasta
Speaking of sexy goat cheese, this cheesy pasta dish has romance pretty much spilled all over it. Get the recipe here. 
Brown butter scallops with parmesan risotto
Risotto is sexy. And this parmesan coated risotto recipe topped with seared scallops is pretty much designed for a Valentine's Day date at home. Get the recipe here. 
Four cheese spaghetti
If you're planning to eat spaghetti Lady and the Tramp style this Valentine's Day, that pasta better be coated in cheese. Get the recipe here. 
Caprese mac and cheese
Fact: The more mac and cheese a couple eats together the stronger their relationship will be. Test the theory with this cheesy salad-inspired pasta dish. Get the recipe here. 
Blistered shishito and burrata bread salad
Not only is burrata inarguably the most beloved cheese, but this easy-to-make and arguably healthy salad looks like restaurant food —a major bonus for any cheesy date. Get the recipe here. 
Cheese puffs
Pop these little bites of cheesy happiness into your lover's mouth all day long. Get the recipe here. 
Camembert and calvados
This recipe, or plated arrangement, takes zero cooking skill and is super romantic to eat with your hands, preferably with a soundtrack of French music playing in the background. Get the recipe here. 
Strawberry bruschetta grilled cheese
If just looking at this sweet and gooey sandwich turns you on, you know you need to make it for a cheesy Valentine's Day. Get the recipe here. 
Blue cheese polenta with prosciutto, apple and pearl onions
There's something oh so comforting about a bowl of polenta on a cold February day — exactly the type of cheesy meal you want to cook up in cuddling weather. Cozy up with a bowl and a blanket and your Valentine's Day date(s) with this blue cheese polenta. Get the recipe here. 
Classic cheese fondue
Dim the lights and warm the fondue pot for a romantically cheesy date that's just as delicious as it is melty. Get the recipe here. 
Quinoa mac and cheese
If you want a cheesy recipe that's not totally unhealthy, go for this quinoa mac that will leave you feeling good after you most certainly eat too much. Get the recipe here. 
Creme brûlée cheesecake strawberries
If cheese isn't part of your Valentine's Day dessert, you're doing it wrong. These cheesecake-filled strawberries are burnt on top to replicate a dish of creme brûlée. Get the recipe here.