Update on Cape Town mosque attacks: Who's behind the Islamophobic acts?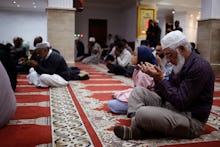 Authorities say two mosques in Cape Town, South Africa, were recently defiled in Islamophobia-fueled attacks, Al Jazeera reports. 
On Jan. 7, a pig's snout was left at the entrance gate of a mosque in Simon's Town, according to Mail & Guardian. Pig's blood was sprayed over the walls of another Muslim center of worship in Kalk Bay on Jan. 9. No arrests have been made, according to Times Live.
In an official statement, Western Cape provincial government officials said the two attacks, perpetrated within days of each other, "made calculated use of Islamophobic methods." Further, the "similarity of cases, and proximity of the mosques, raises concerns that the two incidents may be linked." 
Western Cape Premier Helen Zille condemned the acts.
"Our society is founded on constitutional values of respect, tolerance and freedom," Zille said. "Acts of religious or racial prejudice have no place in our province and nation."
Achmat Sity, imam of Masjidul Jamiah in Kalk Bay, told Agence France-Press the mosque's caretaker found the walls and the pulpit smeared in blood. "It was very disturbing," he said, adding that nothing was stolen.  
Pigs are considered unclean in Islam, and many people who practice Islam do not consume pork. 
Al Jazeera reported the desecrations took place less than a week after a white Western Cape resident posted a Facebook message calling for mosques to be burned down. The post has since been deleted. 
In light of these attacks, Farid Sayed, editor of Muslim Views, told Al Jazeera that racist attitudes are still embedded in post-apartheid South Africa. 
"This anger — from these racists and bigots — has been heightened by right-wing media outlets that continue to demonize and insult Muslims," Sayed said. 
According to Mail & Guardian, community members in Simon's Town reported the incidents to the South African Police Service, hoping they and the South African Human Rights Commission would act to address this issue.