Italians are cursing BuzzFeed for its abominable "boiled milk pasta" recipe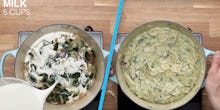 President-elect Donald Trump isn't the only one who thinks BuzzFeed is a "failing pile of garbage." 
Over on a different continent, Italians are writhing behind their screens, cursing the media publication for sharing a wretched recipe for pasta boiled in milk. 
BuzzFeed's Tasty, which has seen its share of controversies, instructs readers to cook one pound of fettuccine in five cups of milk brought to a boil. Mix in a few other indulgent ingredients and — voila: One-Pot Creamy Chicken Bacon Pesto Pasta. 
The video, which has upward of 25 million views since being posted on Tuesday, is seemingly striking a nerve with an Italian audience. The responses are more delicious than whatever crap is being mixed up in the hands-and-pans video. 
The comments range from threats ...
Translation: "If my grandma sees you boiling pasta in milk she'll come massacre you wherever you are ..."
To disbelief ...
Translation: "What the fuck! Are you serious??? Are you for real?? Forgive them, grandma, they know not what they do!!"
To actual death wishes.
Translation: "May you choke on a curse to God."
Other, equally repulsed commenters have said the recipe is what Americans deserve.
While pasta wasn't invented in Italy, it is believed to have been cooked by Italians since before the 13th century. These days, pasta is not just regarded as an Italian food, but an Italian art form. While American cuisine often reimagines recipes from other cultures, this particular aberration could make you want to book a flight to Rome, scale the Colosseum and cry, "If it ain't broke, don't fix it!"