The xx 'I See You' Review: The most expansive, empathetic album the band has ever offered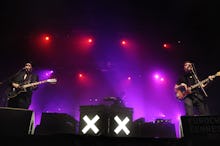 Listening to the ecstatic horn stabs that open The xx's latest album, I See You, it's hard not ask the question: "Am I listening to the right album?" It's such a transgressive moment, a blaspheme against an earlier edition of The xx gospel, which valued silence and space over all things. But here, it's the clarion call of a new era for the band, one that's bolder and far more accepting of diverse soundscapes to house their breathy, heartfelt pop.
The xx has been gradually building a unique space for themselves in the indie scene since their 2009 self-titled debut, xx, which sparked a comically antipodal uproar of praise from critic communities. The album won them a Mercury prize in 2010 and moved a surprising amount of units for a style of music so outwardly skeptical of radio conventions. I See You is set to distinguish them even more, featuring some of the band's most surprising songwriting and offering a more complete view of its members' individual talents. 
It proves that the band has come a long way from their whispered beginnings, and confirms in turn they'll have a lot more to offer before their influence begins to wane.
Since their debut, the band has released two essential projects that have clearly informed the new LP's sound. Their sophomore album, Coexist, offered an even deeper dive into their signature minimalism, with few beats ever growing louder than one's own heartbeat in a quiet room. In 2015, the group's soft-spoken producer, Jamie xx, enjoyed a surprising solo breakout with In Colour, a heavily sample-based dance album that boasted a darker house sound alongside sunnier collaborations like Young Thug and Popcaan's "I Know There's Gonna Be (Good Times)."
I See You collapses the boundaries that separate these various sounds, resulting in the most expansive and coherent vision of how the band's talents can meld and create productive tensions. 
The album's lead single, "On Hold," offers a perfect example. Building from a single yearning note, the song starts by setting up a familiar heartfelt dialogue between co-leads Romy Madley Croft and Oliver Sim. But where a past incarnation of the project would have been content to let the simple caress of their vocals carry the listener through, Jamie xx splices in a mangled Hall & Oates sample at the perfect moment — as an answer to the lyric: "I think you're too soon to call us old/ When and where did we go cold?" 
Not here. Not on this LP.
I See You still harbors its share of quiet moments, and these especially show that Croft and Sim have gotten more in touch with their own voices over the past few years. Their harmonies seem even more expressive, capable of putting forth emotions far more complex than simple love or longing. On songs like "Say Something Loving," they manage to communicate both in a single line of Croft's second solo verse: "Your touch stays on my skin/ I feel it start sinking in/ Here come my insecurities/ I almost expect you to leave."
Croft's solo cut, "Performance," captures the plainspoken, sweetly sad conundrum of having to present a brave face to the world when one feels little besides hollow and fragile on the inside. With subtle changes in inflection she manages to alternate between that vulnerability and manufactured courage as the lines require.
The album's release feels particularly well-timed, dropping right as their brand of bedroom introspection and wistful disillusionment is particularly in vogue. The title reportedly comes from a line the band overheard at a Drake concert, another artist known for his sensitivity and emotional attentiveness.
"He just called out to all these different people," Croft told Rolling Stone in a recent profile. "'I see you, in the purple jumper! I see you.' ... It was really funny but you know, it's warm, it's affirming that you see your friend. You feel understood and you don't feel as alone."
I See You listens precisely that way. Its soft-spoken lyricism contains a deep empathy, and within a few listens it will feel like an album that's already felt all your deepest fears and insecurities. The band seems anxious to help the listener find a way forward, and perhaps find their own way through that connection. "I will be brave for you," as Croft sings on "Brave for You." "Do the things that I'm afraid to do/ I know you want me to."