Jackie Evancho defends decision to play Trump's inauguration after opening up about sister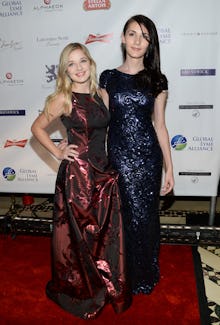 Not only has Jackie Evancho faced general criticism for being the only solo performer who agreed to sing at Donald Trump's Jan. 20 inauguration, but the singer — most famous for her memorable appearance on America's Got Talent — is experiencing additional backlash for something a little more personal: her transgender sister.
Twitter has noticed the hypocrisy.
In a recent interview with the New York Times, Evancho sat down with her older sister, Juliet, who came out as transgender in 2015. In the interview, Evancho reiterated her support for Juliet, who is currently — along with her family — suing her school district for not allowing her to use the women's bathroom.
The singer said, for her, the lawsuit isn't political. "It's just accepting people for who they are."
Evancho's decision to perform at the president-elect's swearing-in is pretty confusing given the record of Trump supporters and his administration  — more so if she identifies as an LGBTQ ally. 
Steve Bannon, Trump's chief strategist and senior counselor, spoke out against Target in May 2016 for allowing customers to use bathrooms based on how they define their gender identities. While conducting an interview on Breitbart News Daily, Bannon alleged Target was "trying to exclude people who are decent, hard-working people who don't want their 4-year-old daughter to have to go into a bathroom with a guy with a beard in a dress."
In 2000, Mike Pence sought to redirect funds away from HIV and AIDS research, suggesting they be used for programs that "provide assistance to those seeking to change their sexual behavior," also known as "conversion therapy."
Despite the incoming administration's record on LGBTQA issues, Evancho insists she's not necessarily singing for Trump. 
"I just kind of thought that this is for my country," the younger Evancho told the Times. "So if people are going to hate on me it's for the wrong reason."