'Game of Thrones' season 7 rumors: Gendry actor photographed in Iceland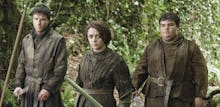 Game of Thrones is the type of show that can leave characters and storylines offscreen for an entire season or more (just ask Bran and Hodor), and the series still works, but that doesn't mean it isn't noticeable. Take the continued disappearance of Gendry, a character at the heart of some strange, Arya Stark-centric Tumblr fanfic, and someone viewers haven't seen on-screen since season three. 
Where was he last? Rowing a boat in the direction of King's Landing, with the help of Ser Davos. Apparently it's taking a while. 
But Gendry's got to come back sometime — right? Game of Thrones has two shortened seasons left before the show ends, and Gendry would ostensibly have some importance to the show since he is the bastard son of Robert Baratheon. Either that, or we spent a decent amount of time with someone who, in one of his final scenes, had leeches sucking on his body after he was seduced by a striking red priestess who happens to be a centuries-old witch. 
Thankfully, all signs point to Gendry returning in season seven, and the latest evidence is the most convincing to date. 
Game of Thrones fan site Watchers on the Wall highlighted an Instagram photo from a Thrones fan in Iceland, where the series is filmed, in which the fan poses with actors Paul Kaye, who plays Thoros of Myr, and Joe Dempsie, our long-lost Gendry. 
The site added that Dempsie was also seen in Spain shooting for the show back in October, when he was alongside actors Liam Cunningham and Peter Dinklage who plays Ser Davos and Tyrion Lannister, respectively. All of this to say, it's more likely than not that we'll finally see Gendry's return in season seven. 
Of course, the news should still be taken with a heavy grain of salt — the actor posing with a fan in Iceland doesn't inherently mean he's coming back to the show. Jason Momoa, who played Khal Drogo, was also seen last year in Belfast, Ireland, another Thrones filming site. Turns out, he was just there to brew his own Guinness beer. 
With any luck, however, Gendry will return to Game of Thrones. If it does happen, they'll need to explain what he's been up to since season three, and just how much of that time was spent rowing alone on a boat.