Why FX's 'Atlanta' isn't returning until 2018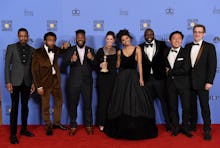 FX's Atlanta was widely celebrated upon the show's best TV series comedy win at the Golden Globes Sunday night. But fans anxious to see what happens in season two will have to wait until 2018. 
The delay in Atlanta's return is being attributed to other acting commitments the show's creator and executive producer Donald Glover is signed on for.
In October, it was announced that Glover would play a younger version of Lando Calrissian in an upcoming Han Salo Star Wars film. The untitled film is currently in pre-production and is expected to hit theaters in 2018. 
In other related news, Glover, who took away a Golden Globe for best performance by an actor in a television comedy series, also inked a deal with FX Production studios. The actor and producer will work on other series for the television network and their streaming services, which is the ultimate come-up for the 33-year-old star.
"Atlanta was just the beginning, the breakout comedy of the year and a series revered as much for its originality as its honest look at the experience of being aspiring, young and black in that legendary city," Nick Grad, president of original programming at FX Networks and FX Production studios, said. "We're proud to partner with Donald in an overall deal that will allow him to continue turning his creative vision into incredible television."
It's no wonder execs at FX want to see what other talents Glover has to offer. Atlanta was the most-watched new comedy on basic cable by adults 18 to 49 this past year. It was also the network's highest-rated new comedy ever.
Glover, aka rapper Childish Gambino, also found time in 2016 to release his latest album, Awaken My Love!
The future looks bright for Glover as he ascends to his role as a mover and shaker in the entertainment industry.