How Keith Ellison is energizing young Democrats like us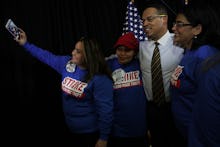 Minnesota has built a deep bench of talented young leaders who are prepared to energize the Democratic Party. And we have Rep. Keith Ellison (D-Minn.) to thank.
We are millennial leaders of color — a Hmong Asian-American man from urban Minneapolis, and a gay, black woman from the suburbs. As of this month, we are also new Minnesota state representatives. And we both got our start working in Keith's congressional office.
Now Ellison is running for chair of the Democratic National Committee, a body that will play an instrumental role in bringing the party back from devastating losses in 2016.
We know that, as chair of the Democratic National Committee, Keith has the commitment and vision to help inspire, recruit and train new leaders around the country, just like he did for us.
Keith understands the importance of young voters. One 2016 exit poll analysis showed that, compared to 2012, young voters were more likely than before to vote for a third party or not vote at all. Keith wants the Democratic Party to engage with young people by giving groups like the Young Democrats and College Democrats a seat at the table and making sure they have the resources they need.
But it's about much more than just young people. Keith taught us the importance of strong grassroots organizing and a progressive message that speaks to working people. We were on the front lines on these issues while working for the people of Minnesota's 5th Congressional District under Keith's leadership.
When voters spoke out against the Trans-Pacific Partnership trade deal, we worked to organize farmers, business owners and labor leaders for a local field hearing. We partnered with Keith to ensure everyone's right to vote is protected. And we saw him empower often-marginalized communities to participate in the political process — from new Americans to young Americans.
He taught us how to be effective organizers to win our campaigns. It is Keith's example of inclusion that we hope to follow when we represent our new constituents.
When we expressed interest in seeking public office, Keith was the first person to sit down with us and explain exactly what we were getting into and the best way to run our campaigns. He taught us how to drive turnout by putting voters first and by using best practices for effective door-to-door campaigning.
Among his own constituents in Minnesota's 5th Congressional District, Keith has driven voter turnout from statewide lows to statewide highs. His was the only district in the state where turnout numbers grew by wide margins in 2010 and 2014, off election years without presidential races on the ballots. And his work is being hailed as a model for congressional districts across the country.
Our experiences taught us, as we became politicians in our own rights, to not see ourselves as candidates so much as organizers — focused on showing everyday Minnesotans the power they have to impact the political process. Throughout Keith's career, he has always been willing to mentor, encourage and yes even knock doors for young people like us who wanted to make a difference.
Running the DNC, we know he will do the same for Democrats all across the country as we fight against President-elect Donald Trump and Republican-controlled state governments. Recruitment is in Keith's blood. Whenever he speaks to a group of young people — whether students or activists in the street — he urges them to run for office. Keith will inspire a whole new generation of leaders, as he did with us.
But, just as he did as a congressman, a Keith Ellison-led DNC wouldn't just recruit young people to run — it would support them. Keith has proposed bringing back DNC-led national training programs so candidates learn organizing best practices and are ready not only to run, but also to win.
Right now, our party needs a chair who takes young leaders seriously and has a track record of supporting them. We cannot afford to have anyone sit on the sidelines feeling like politics isn't for them.
Keith will make sure we invest in and prepare new leaders who can carry us into the future. We are living proof that his commitment will pay off.
Erin Maye Quade is a Democratic member of the Minnesota House of Representatives for District 57A. She previously worked as a community representative in Rep. Keith Ellison's (D-Minn.) congressional office. Fue Lee is a Democratic member of the Minnesota House of Representatives for District 59A. He was previously an intern in Rep. Keith Ellison's (D-Minn.) congressional office.