Nintendo Switch Launch Titles: 'Beyond Good and Evil 2' release date rumors leak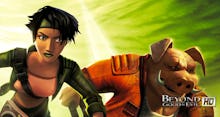 The Nintendo Switch launch games list is set to include Legend of Zelda: Breath of the Wild, a new Super Mario game and maybe even Beyond Good and Evil 2?
That's right, according to a rumor revealed by Laura Kate Dale of Let's Play Video Games, the sequel to Ubisoft's early-2000s favorite could make its way to the Nintendo Switch as an exclusive title.
Beyond Good and Evil 2 Nintendo Switch release date: 12-month exclusive?
According to Dale, future Nintendo Switch owners will see the long-awaited sequel to Beyond Good and Evil come to their system. Not only would the game head to Nintendo's latest console, potentially as a Switch launch title, it could actually be a Nintendo exclusive for an entire year. Sorry, PS4 and Xbox One fans.
Dale, who's generally reliable when it comes to breaking video game news, claimed the upcoming Beyond Good and Evil 2 is code-named "Odyssey." It's possible that could be a nod to how long the game's main story takes to play, but we're just speculating here.
The initial tweet also mentions that after the 12-month period, non-Switch owners will still be limited to a digital version of the game. In a later tweet, Dale clarified this affects when the game will come to PC as well.
Beyond Good and Evil 2 Nintendo Switch release date: Will we see a new teaser during the Jan. 12 event?
Dale also added we may very well see a teaser for the game at the end of Nintendo's Switch livestream on Thursday. This would be the first visual of the game since the first teaser surfaced years ago. An updated one would certainly renew hope in the series.
However, it's tough to say whether any of these Nintendo Switch launch game rumors can be trusted. We can't know anything for sure until Nintendo's big announcement at 11 p.m. Eastern. Stay tuned to Mic for more details.
More Nintendo news and coverage
Check out more Nintendo Switch coverage, including where to watch the big event, Mic's reports on whether the console will be backward-compatible, if more characters are coming to Smash Bros., what current games we want high-definition remakes of and information about the upcoming Nintendo Switch event.