Black Girls Code is using 'Hidden Figures' to inspire young girls to enter the STEM fields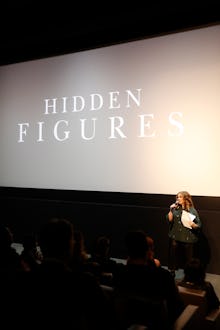 Katherine Johnson, Dorothy Vaughan and Mary Jackson, three female black mathematicians, helped NASA make one of their biggest achievements in history: helping the first astronaut to orbit the Earth.
These women who were recently featured in the box office hit Hidden Figures, starring Taraji P. Henson, Octavia Spencer and Janelle Monáe, have galvanized a whole new generation of young black girls to pursue science, technology, engineering and mathematics fields.
In partnership with 20th Century Fox, Black Girls Code created FutureKatherineJohnsons.com. The website highlights 14 young girls pursuing STEM fields and explains how Hidden Figures inspired them to break barriers within the male-dominated industry. The website's namesake, Johnson, was a black NASA research mathematician who calculated the trajectories and return paths that led to John Glenn's successful NASA mission in 1962.
"Technology is a part of our lives more than we know it," Valerie Allen, Black Girls Code's west coast program manager, said in a phone interview. "The direction of future is tech. It's important for our girls to feel included and not be under-represented, as people of color often are in the tech industry."
The website, according to Allen, is an ongoing project. The young girls who are participating in the project each coded pages within the website.
"I want to be the next Katherine Johnson, because like Katherine Johnson I want to have the strength and courage to pursue my passions no matter what the odds may be," Alexandra, 14, writes on the page that she coded. "I hope that in this process I can inspire other people to do the same."
Black Girls Code provides numerous workshops on how to build a webpage, build a mobile app, create games and host robotic expos and hackathons. 
Allen said the purpose of the website is to serve as a reminder that girls of color — particularly young black girls — are represented in STEM fields and can become successful in those fields despite what naysayers might tell them.
"[We want them to say] 'tech looks like me,'" Allen added. "'Although it may not look like it now, but tech looks like me.' That's should be the huge takeaway for the girls."
Take a look at why a few of the young women think it's important to learn how to code: