9 powerful images of MLK's fight for equality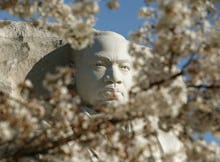 In a 1967 speech in Atlanta condemning the Vietnam War, Rev. Martin Luther King Jr. described various threats to equality in the United States: 
When machines and computers, profit motives and property rights, are considered more important than people, the giant triplets of racism, extreme materialism, and militarism are incapable of being conquered. A true revolution of values will soon cause us to question the fairness and justice of many of our past and present policies.
Our country is still reeling from a difficult year — specifically, a presidential election wherein racism, sexism and xenophobia prevailed. As President-elect Donald Trump's inauguration draws near, King's teachings on equality are as relevant as ever. 
The following images exemplify King's revolutionary work.  
1. "I Have a Dream"  
In this memorable image of King, the civil rights leader is getting ready to deliver his "I Have a Dream" speech from the Lincoln Memorial in Washington, D.C. 
2. March on Washington 
On Aug. 29, 1963, over 250,000 demonstrators joined King to participate in The March on Washington for Jobs and Freedom.
3. The Civil Rights Movement takes over Washington, D.C.
The March on Washington is considered one of the largest demonstrations for human rights in U.S. history. 
4. From Selma to Montgomery 
In March of 1965, King spearheaded a five-day, 54-mile march from Selma, Alabama, to Montgomery, Alabama, where African-American organizations such as the Student Nonviolent Coordinating Committee and the Southern Christian Leadership Conference campaigned for voting rights. 
5. Against all odds 
Alabama state troopers attacked protesters who joined the Selma-to-Montgomery march, which started on Mar. 7, 1965. Despite authorities using whips, tear gas and nightsticks — as well as attempting to halt the march — demonstrators finally reached Montgomery on March 25. 
6. King inspired people of all races 
Nearly 50,000 supporters met the protesters in Montgomery, Alabama, where King and other speakers addressed the crowd. "No tide of racism can stop us," King said.  
7. King in Chicago
King visited Chicago hoping to ignite a new battle for equal justice, according to the Chicago Tribune. His march in Marquette Park on Aug. 5, 1966 was met with opposition by more than 700 white protesters, but his struggle was never quenched. "We are bound for the promised land," he told the crowd in Marquette Park. "We will taste the honey of equality." 
8. Protesting the Vietnam War
In 1967, King led a march of 5,000 anti-war protesters in Chicago. King called the Vietnam War "a blasphemy against all that America stands for."  
9. Civil Rights Act 
While aspects of King's "dream" may still seem out of reach, the passage of the 1964 Civil Rights Act is arguably one of the Civil Rights Movement's greatest accomplishments. The Civil Rights Act prohibited racial discrimination in employment and education and eliminated racial segregation in public spaces. 
After 75 pens were used to sign the bill, President Lyndon B. Johnson gave the first pen to King, who called it one of his most precious possessions.