The most nutritious snacks to pack for a long day of protesting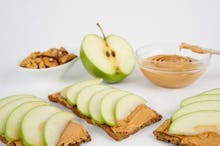 Standing up for justice takes energy and behind every great leader is a great snacker. 
Well, at least a great snack. Martin Luther King Jr. famously loved fried chicken, President Barack Obama is no stranger to cheeseburgers and pastrami pretty much changed Gloria Steinem's life. 
If you're headed to the Women's March on Washington or another inauguration protest, you'll need to stock up on snacks that will keep you full and energized throughout the day. Here's what to pack before you protest. 
Almonds
Almonds, another one of Obama's favorite snacks, are packed with protein — about 20 grams per cup. They are not only easy to transport but easy to eat while marching. Grab various flavors of almonds at Trader Joe's or another specialty store if you're planning on an all-almond snacktivism diet to keep things interesting. You could also go the spoon route with a jar of almond butter or almond butter squeeze packs. 
Apple slices with peanut butter
"I always recommend foods to my patients that will both make them maintain feeling of fullness and also delay fatigue," Dr. William Newsome said in an email. Newsome cites protein as being the most important element in a snack — keeping you fuller longer, rather than, for example, a carb-loaded muffin you pulled off a tray last-minute at a bodega. 
"My favorite snack on the go happens to be apple slices and peanut butter," Newsome said. "Not only are you benefiting from the apple — fiber and detoxification — but the protein in the peanut butter is crucial. Peanut butter helps control hunger, boost your energy and actually helps with muscle maintenance." If you're marching for a long distance, peanut butter can also help curb potential muscle fatigue.
Jerky
"Snacks like jerky will keep you full longer and they also regulate your blood sugar," registered dietitian Caitlin Lantier said in an email. She recommends Vermont Smoke and Cure meat sticks, which are gluten-free and have at least 45% less salt and 40% less sodium than many other meat sticks, so you won't get too thirsty while shouting in the streets.  
Cheese 
While a block of cheese may stink up your inaugural protesting backpack, individually wrapped cheese snacks will stay fresher longer, especially in the January cold, and will give you a tasty boost of protein. Try string cheese, Babybel's wax-wrapped cheese or Laughing Cow spreadable wedges to smear on a whole-grain cracker (or your finger). 
Hard-boiled eggs
"A hard-boiled egg not only boasts 6 grams of protein but it also full of vitamin D and B-12." Newsome said. Make your own hard-boiled eggs for a compact, protein-filled snack that you can pack in your pockets if you're traveling light. No one has to know there's an egg in your pocket, right?
Snack bars
"Being that during these rallies and marches you are on your feet the entire time, you want something that's not only nourishing but super portable too," registered dietitian and nutritionist Elizabeth Ann Shaw of Shaw's Simple Swaps said via email. 
She recommends the Kind Nuts and Spices line because of the snack bar's high protein and fiber content. The dark chocolate nuts and sea salt flavor, for example, has 7 grams of fiber and 6 grams of protein. "Focusing on fiber and protein will help keep you satiated for longer, giving you the energy to continue to march on!"
Veggie chips
While carrot and celery sticks would be a great snack to pack up, if raw veggies aren't going to motivate you after four hours of standing in the cold, go for the next best thing — dehydrated veggies. Pack up the very trendy seaweed snacks, kale chips and even the nacho-flavored broccoli chips to sneak in some extra vitamins and a serving of vegetables during your long day of activism.
Sacha Inchi
Known as a "super seed," these crunchy snacks will give you something to chew on and boost your energy levels will taking to the streets. 
"Sacha Inchi seeds are the perfect food to satisfy hunger, boost mood, balance blood glucose levels and support brain function," nutritional therapy practitioner Caitlin Eberly said via email. "With 13 grams of healthy fats, more than 8 grams of protein, and 5 grams of fiber, Sacha Inchi helps to maintain optimal blood sugar levels so you don't experience those pesky energy crashes."
Sacha Inchi will keep you fuller longer and is great for activists because it "supports the brain with plenty of omega fatty acids and iron, so that you can remain energized and clear-headed while fighting the good fight," Eberly said. 
Hummus
Hummus is naturally low in fat and sugar but high in protein, so dipping some baby carrots or celery sticks in hummus is an easy, tasty and not to mention vegan and gluten-free way to boost your energy levels. Not only is hummus remarkably allergen-friendly, it is also easy to find in halal- and kosher-certified packages, so you can share the hummus joy with fellow activists of many backgrounds.