Donald Trump has a week to plug brands like L.L.Bean before breaking a federal ethics rule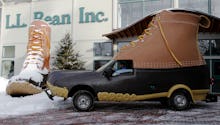 President-elect Donald Trump made waves Thursday after tweeting a message supportive of outdoor apparel and gear maker L.L.Bean.
He wrote: "Thank you to Linda Bean of L.L.Bean for your great support and courage. People will support you even more now. Buy L.L.Bean."
Why? Bean, granddaughter of L.L.Bean's founder, reportedly made donations in support of Trump during the campaign and recently criticized anti-Trump protestors on Fox.
In short order, #BoycottLLBean began trending on Twitter — an effect that some speculate actually might be what Trump wanted all along.
That might be because of a Jan. 8 Facebook post by L.L.Bean's executive chairman that distanced the company from Bean's statements, calling her "only one of 50+ family members involved with the business."
Because L.L.Bean is a private company — meaning it is not publicly traded, like Boeing — it was not as immediately clear whether Trump's tweet will help or hurt the business financially.
Previously, the president-elect's tweets have caused the stocks he discusses to experience rapid price swings — and that has been so disruptive that it spurred the creation of a new phone app feature that alerts investors as soon as Trump tweets about a company.
While Trump is not prohibited from tweeting about companies as president-elect, his tweets — and his endorsements in particular — might run afoul of federal ethics rules if he continues his behavior after he is sworn in on Jan. 20.
The reason?
There exists a U.S. Office of Government Ethics prohibition against executive branch employees using their office to plug "an organization (including a nonprofit organization), product, service, or person."
Though the president may have technically been exempt from the rule, President Barack Obama established a White House policy to include presidents, Politico reports: Then again, it is always possible that Don McGahn, Trump's incoming White House counsel, could alter the rule once the new administration moves in.
That's a bad idea, former White House ethics lawyer Norm Eisen told Politico: "The concept that we are a government of laws, not men, does not mean doing the bare minimum and looking for loopholes — it means living up to the spirit of the law."
The Trump transition team did not reply to a request for comment.