What to know about Geronimo Gutierrez, reportedly Mexico's new ambassador to the US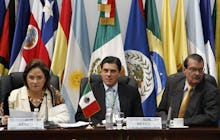 Mexico will announce a new ambassador to the United States on Friday: North American Development Bank CEO and managing director Geronimo Gutierrez Fernandez, according to a report by the Hill published Thursday night.
Citing unnamed Mexican Foreign Relations sources, the Hill reports that Gutierrez will replace Carlos Sada Solana, who was appointed in April in part to help counter "the damage [President-elect Donald] Trump has done" to Mexico's reputation and interests, as one Mexican lawmaker put it at the time.
Tensions have remained high since Trump's election, particularly since he has said Mexico will eventually pay for any wall built between the countries.
Former Mexican President Vicente Fox recently exchanged barbs with the president-elect on Twitter over whether Mexico will pay, and recently-appointed foreign minister Luis Videgaray similarly insisted on Tuesday that there's "no way" Mexico would cover the costs.
Whether the appointment of Gutierrez — praised in the past for his intelligence by political analysts — will ease strained relations has yet to be seen.
A Twitter account alleging to represent Gutierrez includes tweets urging Trump to embrace free trade, and in other reports the development bank director has touted the benefits of trade for the United States, pointing out that Mexico imports many American goods.
In his current position at NADBank, Gutierrez is based in San Antonio, Texas, and directs projects involving transportation, waste management, water, and renewable energy.
The development bank was created in the 1990s as part of the North American Free Trade Agreement, which binds the U.S., Mexico and Canada together through trade — a pact which Trump has said he will consider renegotiating.
For that and other reasons, the bank's future is unclear.
Gutierrez formerly served as Mexico's deputy interior minister, when — according to leaked documents — he expressed concern about the government's struggle against drug cartels.
Now, in his new position, he will occupy Mexico's most prominent foreign ambassadorship, the Hill reports.