'Top Chef': Jamie gives up immunity, doing the unprecedented — and pays the price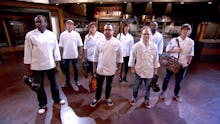 Thursday night's episode of Top Chef: Charleston featured an unprecedented act that breaks from 13 previous seasons of tradition. It wasn't sending chef Jim Smith home during a Quickfire Challenge — Sudden Death Quickfires have existed for years now. 
No, the shock of all shocks came from chef Jamie Lynch, paired with fellow contestants John Tesar and Emily Hahn in a pirate-themed elimination challenge. Jamie won immunity from elimination in the Quickfire, but offered to give up his immunity to save his teammates from getting sent home on his behalf. During the final judges' table segment, host Padma Lakshmi asked him if his offer was still on the table, even emphasizing, "Are you sure?" when he confirmed he was still willing to fall on his sword.
"Jamie," Padma said. "Please pack your knives and go."
The move was a stunner. Sure, the odd contestant on shows like The Apprentice and Survivor has given up their immunity before. But it's still the wild exception to the rule. 
Yes, Jamie may have been the rightful choice to go home (and clearly was in the judges' eyes), but winning immunity is part of the game. By performing well in the Quickfire, he had the flexibility to take on a more difficult dish in the elimination challenge. That his dish bombed would be, for most contestants in the hunt to win Top Chef, an opportunity for a shrug and a commitment to do better next time. Not Jamie.
Fans on Twitter were particularly frustrated that Emily, a chef who has yet to win a challenge and has been in the bottom of most of them, survived, while Jamie and Jim both got sent home.
Oddly enough, Jamie's move was foreshadowed by a couple of different events in Top Chef history. In season two, Mia Gaines-Alt withdrew from the competition to prevent the judges from sending Elia Aboumrad from going home. The next season, Howie Kleinberg tried to do the same to prevent Brian Malarkey's elimination, but the judges stopped him and eliminated him traditionally.
Most significantly, in season 11's top six episode, the remaining chefs were split into two teams. One team included current season 14 contestant Shirley Chung, eventual season 11 champion Nicholas Elmi and a third chef, Stephanie Cmar. Nicholas made a terrible dish that sunk his team's chances, but both Shirley and Stephanie made great dishes. Unfortunately, Nicholas sunk the team's average, losing them the challenge. The judges asked if Nicholas would surrender his immunity, but he refused. Stephanie got sent home instead.
Who knows if Jamie was thinking of Nicholas when he made his decision, but that season 11 decision felt very much present in this episode. Jamie chose a path of "integrity," as he put it. He may not become Top Chef, but he went out without any game rules protecting him — and now, thanks to his unprecedented move, he'll go down in Top Chef history.