Nintendo Switch Online Services: Nintendo reveals details about its region-free console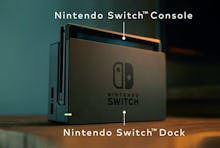 During the Nintendo Switch livestream event, Nintendo revealed its new console will be region-free, meaning that every version of every Switch game — no matter what language it's in — will work on every Switch across the world.
Additionally, Nintendo said its service that will enable online gaming will initially be free for everyone to try, but will transition to a paid service in fall 2017.
According to Nintendo's site, the Switch's online service will also include monthly game downloads for older titles. It's not totally clear how it will work yet, but based on the description from Nintendo's site, it sounds like a subscription to its online service will include the download of one NES or SNES game download to your Switch per month.
"Subscribers will get to download and play a Nintendo Entertainment System (NES) or Super Nintendo Entertainment System (Super NES) game (with newly-added online play) for free for a month," the site says.
As more details become available, Mic will let you know.
More Nintendo Switch news and updates
For more info on what Nintendo revealed during its livestream, here's where you can get details on the Nintendo Switch price, release date, pre-orders, online services and battery life. If you're interested in the Nintendo Switch's games, here's info on the new Super Mario Odyssey game, Legend of Zelda: Breath of the Wild, Splatoon 2, Xenoblade Chronicles 2, 1-2-Switch and the goofy boxing game Arms.