Nintendo Switch games: 'Arms' trailer, gameplay revealed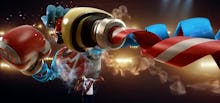 During Nintendo's presentation, where lots of new details about the Nintendo Switch were revealed, we got a peek at some new games, too.
One of the strangest offerings coming to the Nintendo Switch is Arms, a game that looks like a mix between Tekken and rock-em-sock-em robots.
It's a motion-controlled game, in which players grasp the Joy-Con controllers and punch through the air to make their character's arms extend out in front of them like a rubber band. 
Arms will be available spring 2017.
More Nintendo Switch news and updates
For more info on what Nintendo revealed during its livestream, here's where you can get details on the Nintendo Switch price, release date, pre-orders, online services and battery life. If you're interested in the Nintendo Switch's games, here's info on the new Super Mario Odyssey game, Legend of Zelda: Breath of the Wild, Splatoon 2, Xenoblade Chronicles 2, 1-2-Switch and the goofy boxing game Arms.