President Obama designates 3 new national monuments — all civil rights sites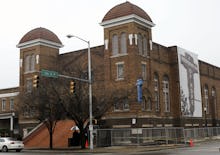 Closing in on his final week in office, President Barack Obama on Thursday designated three spots as national monuments — all of them related to U.S. civil rights. The sites include a church in Alabama where four young black girls were killed by a bomb, a Freedom Riders monument in Alabama and a former school for freed slaves in South Carolina, USA Today reported.
"Today, I am designating new national monuments that preserve critical chapters of our country's history, from the Civil War to the civil rights movement," Obama said in a White House statement. "These monuments preserve the vibrant history of the Reconstruction Era and its role in redefining freedom."
Here's what to know about our three new national monuments.
Birmingham Civil Rights National Monument
The designated site in Birmingham, Alabama, comprises the Sixteenth Street Baptist church, which acted as headquarters for civil rights meetings in the 1960s. The predominantly black church was bombed by white supremacists on the morning of Sept. 15, 1963, killing four young girls and injuring many more.
The site also includes Kelly Ingram Park, where civil rights demonstrators were met with violence from police. During a 1963 peaceful protest known as the Children's Crusade, police sprayed the young demonstrators with water hoses and threatened them with police dogs.
Freedom Riders National Monument
The newly designated monument in Anniston, Alabama includes the former Greyhound bus station where, in May of 1961, a 200-person mob of white people attacked a bus full of Freedom Riders — civil rights activists who rode interstate buses throughout the South to promote integration.
A bomb was thrown into the bus, causing it to burst into flame; the Freedom Riders escaped, but were beaten by the mob upon their exit from the vehicle.
Reconstruction Era National Monument
The national monument in Beaufort County, South Carolina, includes Penn Center on St. Helena Island, the location of the former Penn School, which served as one of the first schools for freed slaves in the United States. 
A school for freed slaves was first established in a church on St. Helena Island in 1862, enrolling 80 students. In 1865, the school got its own three-room building and was officially named the Penn School.
Diverse national monuments: In June of 2016, shortly after the Pulse nightclub shooting in Orlando, Florida, Obama designated New York City's historic Stonewall Inn as the country's first national monument honoring LGBTQ rights. The monument also comprises the streets and sidewalks around the Stonewall Inn — a total of 7.7 acres. 
The Stonewall monument, among others, reflect Obama's push to diversify our national monuments, he said in the Thursday statement: "From designating Stonewall National Monument, our country's first national monument honoring the LGBT movement, to recognizing the movement for women's equality through the Belmont-Paul Women's Equality National Monument, I have sought to build a more inclusive National Park System and ensure that our national parks, monuments and public lands are fully reflective of our nation's diverse history and culture."