Bush sisters write letter to Malia and Sasha Obama: "You have so much to look forward to"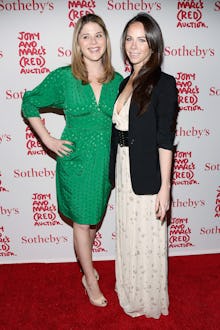 On Thursday, sisters Jenna Bush-Hager and Barbara Bush, daughters of 43rd president George Bush, published a heartfelt letter in Time to Malia and Sasha Obama offering them words of support for their post-White House life ahead.
"Malia and Sasha, eight years ago on a cold November day, we greeted you on the steps of the White House," the letter begins. "We saw both the light and wariness in your eyes as you gazed at your new home... The four of us wandered the majestic halls of the house you had no choice but to move in to."
The letter encourages the Obama sisters to look back on their eight years as first children with appreciation — to "take all that you have seen, the people you have met, the lessons you have learned, and let that help guide you in making positive change." 
That's what Barbara Bush did after meeting "one tiny girl wearing her finest lavender dress" waiting to get antiretroviral drugs, the letter says. After the experience, Barbara "went back to school and changed her major, and her life's path," later becoming the co-founder and CEO of Global Health Corps.
The Bush sisters suggest that Malia and Sasha — after living through "the unbelievable pressure of the White House" — enjoy college and pursue their passions.
"Learn who you are," they write. "Make mistakes — you are allowed to. Continue to surround yourself with loyal friends who know you, adore you and will fiercely protect you. Those who judge you don't love you, and their voices shouldn't hold weight. Rather, it's your own hearts that matter."
This letter is not the first from the Bush sisters to the Obama sisters. They published another on Jan. 20, 2009 — the day of President Barack Obama's inauguration.
Finishing off their farewell letter, the Bush sisters write, "You have listened to harsh criticism of your parents by people who had never even met them. You stood by as your precious parents were reduced to headlines. Your parents, who put you first and who not only showed you but gave you the world. As always, they will be rooting for you as you begin your next chapter. And so will we."