Joseph Fiennes won't play Michael Jackson after all; Sky Arts releases statement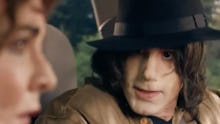 After an uproar that even the most stubborn creators couldn't ignore, the Sky Arts network has pulled the upcoming episode of their series Urban Myths starring Joseph Fiennes as Michael Jackson.
"We have taken the decision not to broadcast Elizabeth, Michael & Marlon, a 30 [minute] episode from the Sky Arts Urban Myths series," the network announced in a series of tweets.
Of course, this was a casting decision roundly criticized for months before now — the only difference being that there was now a clip of Fiennes as Jackson available. Sky Arts attributes the change to responses from family members.
"This decision was taken in light of the concerns expressed by Michael Jackson's immediate family," the network tweeted. "We set out to take a light-hearted look at reportedly true events and never intended to cause any offense. Joseph Fiennes fully supports our decision."
While a decision like this is certainly better made late than never, Sky Arts' choice to wait until now feels remarkably tone-deaf. When Jackson himself is on tape saying he never wants a white actor to play him, it's safe to assume his family won't be fond of the choice, either.
Regardless, the episode is a thing of the past. Hopefully the next time a network or studio tries to make a story about the late King of Pop, they think a bit more beyond the surface than Sky Arts did.