'Victoria' premiere: 5 things to know about the 'Downton Abbey' replacement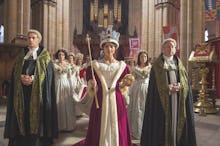 A new British aristocrat is about to take over the hallowed Downton Abbey time slot on PBS on Sunday.
Jan. 15 will see the premiere of Victoria on Downton's former U.S. home, PBS. Victoria, which airs as part of the PBS Masterpiece series, documents the early reign of Queen Victoria, who went on to rule Great Britain for 63 years after ascending to the throne at age 18 in 1837.
At first glance, Victoria appears to have all the makings of your typical frothy British period drama: political intrigue, scandal, subterfuge and, of course, lots of sex and romance. But since it's based on historical figures, and the fact that it's already aired in the U.K., it's not as shrouded in secrecy as some other anticipated TV shows can be. Ahead of this Sunday's series premiere, read on for a little of what you can expect from this fresh take on Queen Victoria, played in the series by former Doctor Who actress Jenna Coleman:
It's already been renewed for a second season
Over in the U.K., Victoria aired on the ITV network, where it was such a smash that in addition to being renewed for a second season back in September 2016, it was cited as the channel's top-rated drama of the year. It averaged 7.7 million viewers per episode.
Victoria's ascent to the throne 
Given her initial position in the British royal family, it was by sheer dumb luck that Victoria ever became queen at all. She was the only child of King George III's fourth son, Edward, but following Edward's death, Victoria became heir apparent. This was due to, according to a release provided by PBS/Masterpiece, the "unfruitful marriages on the part of her uncles, who failed to produce legitimate heirs to the crown."
Victoria was just another working mom
While the "working mother" aspect won't be addressed until season two, Victoria's creator, Daisy Goodwin, sees the 19th century queen as a role model for women in 2017. "In the next series, [Victoria] faces the very modern dilemma of how to juggle children with her husband and her job," Goodwin said in a statement released by ITV. "As Victoria will discover, it's hard to be a wife, a mother and ruler of the most powerful nation on earth!"
Victoria wasn't necessarily "Victorian"
The era that bears the long-serving monarch's name tends to be synonymous with words like "prudish." Goodwin, however, in an interview with the Wall Street Journal, describes Queen Victoria as "spirited and very, very keen on men." The series' creator also likens Victoria to "Taylor Swift becoming queen" in this PBS video.
It's not all based on fact
Before Victoria shifts to the young monarch's romance and eventual marriage to her cousin, Prince Albert, much of the show's drama is centered around the queen's crush on her prime minister, Lord Melbourne, played by the dashing English actor Rufus Sewell. Now, while an infatuation with the hunky Sewell is easy to accept, the truth is, Melbourne did not exactly look like the Man in the High Castle star. According to historian Jane Ridley, the author of Victoria: Queen, Matriarch, Empress, the series' suggestion that the teenage ruler was in love with Melbourne is pure fiction.
Victoria premieres Sunday, Jan. 15 on Masterpiece on PBS at 9 p.m. Eastern. Watch the trailer below: