'Sherlock' Season 4, Episode 3: When and where to watch the finale, 'The Final Problem'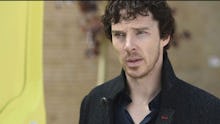 The first two episodes of Sherlock's fourth season have been superb, but it looks like the best is being saved for last. Season four has been described as "the darkest season yet" and so far, that has been quite true. In the first episode of the season, "The Six Thatchers," Mary Watson's past caught up to her in a way that left Sherlock and Watson's relationship in chaos. Things only got worse last week.
In the season's second episode, "The Lying Detective," Sherlock introduced an antagonist that the series creators described as "the purest evil." The villain, Culverton Smith, played by Captain America: The First Avengers' Toby Jones, lived up to that description with ease. He was a rich and powerful serial killer, who built an entire hospital, a la H.H. Holmes' Murder Castle, to dispose of the bodies.
Sherlock's fourth season is set to intensify in the finale, as we finally learned who the secret Holmes sibling is, and it appears that she has been pulling some strings for quite some time. Suffice to say, you will not want to miss a minute of "The Final Problem."
When and where to watch "The Final Problem"
Sherlock fans, you have a few options when it comes to watching the final episode of the fourth season. The episode will air, as always, on PBS. But read this next part carefully. "The Final Problem" will air Sunday, Jan. 15 at a special time, 7 p.m. Eastern on PBS. The episode will have an extended run time of two hours, so set your DVRs accordingly. Fans in the United Kingdom can catch Sherlock at its usual hour, 21:00 local time, on BBC One. 
If you will be unable to watch "The Final Problem" live, and also do not have access to a DVR, you still have several options. The final episode of Sherlock's fourth season should be available on PBS' website following the original broadcast. Further, those in the U.K. will be able to catch the episode on BBC iPlayer after it airs. 
You also have the option of purchasing new episodes of Sherlock on Google Play, iTunes and Amazon. While Netflix subscribers in the United States will not be able to catch season four of Sherlock on the streaming platform likely until June or July, new episodes are already available for other regions.
Finally, Sherlock fans have one last special option for viewing "The Final Problem." According to Entertainment Weekly, "The Final Problem" will be screened in select theaters on Jan. 16 and Jan. 18. This screening will also contain an extra 15 minutes of footage, so it may be the best option for the biggest of Sherlock fans. 
As you can see, there is really no excuse to miss Sherlock — your options are quite plentiful. And remember, as always, it will likely be a few years before we see another season — if we ever do.
Mic has ongoing coverage of Sherlock. Please follow our main Sherlock hub here.