Carole Packman disappearance: The chilling true story of Netflix's 'The Investigator'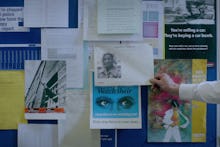 The story of Carole Packman, a woman disappeared in 1985 and whose husband was convicted for her murder in 1996, has been brought to Netflix as a British true crime story titled The Investigator. 
Thirty years have passed and Packman's body is still missing. Her daughter, Sam Gillingham, has not given up on finding answers to her mother's mysterious death and seeks them in The Investigator, which is streaming now on Netflix. 
"In all my years as an investigator, I never had a case like this," says the show's host and former detective Mark Williams-Thomas in a trailer for the series. "As I look into this complex true story, I find twists at every turn. Murder. Sex. Fraud. Even a body missing at sea."
Before you watch, here are four things you should know about the chilling four-part series.
Troubled marriage
Before Packman disappeared, she had seen a lawyer about divorcing her husband, Russell Causley. The bill for the visit was never paid, according to the Telegraph. Causley caused Packman distress after moving his mistress into their home while Packman and their daughter Samantha were still living there. 
Husband's denial
After Packman went missing, Causley went to lengths to distance himself from her and her whereabouts. He changed his surname from Packman to Causley, the surname of his mistress, according to the Telegraph. He also told Packman's family that she had gone off with a "man in a red Porsche" and started a new life without him in another country. He denied knowing anything about her murder from June 1985 to August 1985, but was found guilty of murder in 1996. After an appeal and retrial in 2004, Causley began a life sentence in jail.  
Samantha
Packman and Causley's daughter, Samantha, was 16 when she went through this dark chapter. In June 1985, Samantha said her mother left a note reading, "I've had enough and I'm leaving. And I'm not coming back." That was the last time she ever heard from her. Thirty years later, Samantha called The Investigator's Williams-Thomas hoping to find answers. 
"This is why Sam came to me, in the hope that I could answer some of the questions for her," Williams-Thomas wrote in the Sun. "She says she has tried everything else and wants to give it one last try."
More Twists and Turns
Before going to jail, Causley faked his own death to cash out on a life insurance money, which eventually led to the police reopening their investigation of his role in his wife's death. In recent years, he allegedly confessed to murdering his wife while in jail, the Mirror reports. He also hasn't had any communication with his daughter in decades. 
"The most compelling part of the whole series is how nothing is as it seems, just as you think you know what is going on and have it all worked out, all of a sudden something suddenly occurs out of the blue, to make you think again," Williams-Thomas said in the Sun.