Trump Inauguration 2017: R Kelly denies rumors he's performing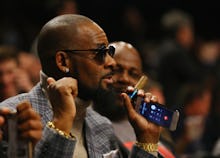 At the end of the day, R&B luminary R. Kelly and President-elect Donald Trump might have a lot more in common than anyone should feel comfortable admitting. Both have maintained strong holds on their positions of power in spite of floods of sexual assault accusations, both have admitted to being attracted to younger women and both have allegedly starred in videos featuring golden showers.
None of this should be enough to immediately assume that R. Kelly is a Trump supporter, or that he would perform at the president-elect's inauguration. But the rumors and jokes have been flying, and Thursday evening, R. Kelly took time to deny them on Twitter.
"R. Kelly will not be performing at this year's Inauguration Ceremony," R. Kelly wrote over a golden yellow background, with key words highlighted in red. "End. Of. Story." 
Tuesday evening, BuzzFeed shared unverified documents alleging that Donald Trump had been caught on video watching sex workers urinate on a Moscow hotel bed where President Barack Obama and first lady Michelle Obama had once slept. The president-elect has since denied the reports as "fake news," vehemently, over and over again on Twitter and in his first public press conference since the election Wednesday. 
The alleged videos have yet to go the way of the questionable intel documents and leak to the internet. Many allegations against R. Kelly have also surfaced, including video appearing to show him urinating and having sex with a reportedly 14-year-old girl, which was sent anonymously to the Chicago Sun-Times back in 2002.
Despite allegations against R. Kelly, he's continued to release albums and maintain a ravenous fan base. He's promised to release 35 more chapters of his hit Trapped in the Closet in 2017.
As for the inauguration, Trump has already said he's not interested in having any celebrities attend; he wants the people. He's already got Jackie Evancho and the Mormon Tabernacle Choir. R. Kelly would just throw off the pure, white, Christian vibe.