Nintendo Switch Neon Joy-Cons: Price, release date, pre-order and everything we know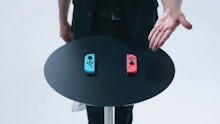 The Nintendo Switch will come in two different models, but the difference between them doesn't come down to internal specs or even the price. Instead, the company is differentiating one option with a pair of Nintendo Switch neon Joy-Con controllers in bright blue and red colors.
Nintendo Switch Neon Joy-Cons: Release date
The neon-colored Joy-Cons will be available in one configuration of the Nintendo Switch. Beyond the controllers. there doesn't appear to be anything unique about this model. It comes with the same black design for the Nintendo Switch tablet-like console, the same black dock and the same accessories.
As a result, Nintendo doesn't plan to charge extra for these neon Joy-Cons. Both versions of the Switch will come with the same suggested price and launch at the same time on March 3. 
Nintendo Switch Neon Joy-Cons: Price
GameStop is currently offering pre-orders on both models for $299.99 with the same set release date. So if you're determined to grab the Nintendo Switch with neon Joy-Cons you can reserve your unit right now.
It's also possible that supplies for the brightly colored variation will be limited and sell out quickly. In that case, we could see these neon Joy-Cons re-sold online at a high markup. Some retailers could even charge extra preemptively due to particularly high demand once the system has officially launched.
Nintendo also announced that it plans to sell a stand-alone box of two Joy-Con controllers for $79.99, which you can pre-order now as well. That includes the neon controllers as well as the gray version. You can even buy a single Joy-Con for $49.99, though it looks like you're stuck with grey in that case.
More Nintendo Switch news
For more info on what Nintendo revealed during its livestream, here's where you can get details on the Nintendo Switch price, release date, pre-orders and battery life. If you're interested in the Nintendo Switch's games, here's info on the new Super Mario Odyssey game, Legend of Zelda: Breath of the Wild, Splatoon 2, Xenoblade Chronicles 2, 1-2-Switch and the goofy boxing game Arms.