Donald Trump will have the whitest, most male first Cabinet since Ronald Reagan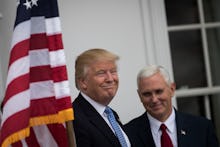 President-elect Donald Trump is making America 1981 again.
Assuming his current nominations are confirmed, his first Cabinet as he ascends to the presidency this month will be the whitest and most male since Ronald Reagan's.
It will have a smaller percentage of women and people of color than the first Cabinets of Bill Clinton, Barack Obama, George W. Bush and George Bush, the New York Times reported on Friday. 
"Donald Trump is rolling back the clock on diversity in the cabinet," Paul Light, a professor at New York University's Wagner Graduate School of Public Service, told the Times.
Only five slots of 21 cabinet or "cabinet-level positions" have gone to people who aren't white men, and those happen to be "some of the lowest-ranking positions," according to the Times, including the role of secretary of education and head of the Small Business Administration. 
And every single man in Trump's proposed cabinet is white except for neurosurgeon Ben Carson, who is Trump's choice to lead the Department of Housing and Urban Development. By comparison, outgoing President Barack Obama's first cabinet was composed of 64% women or nonwhite men, according to the Times.
Not only is Donald Trump's proposed cabinet one of the whitest, most male-dominated in recent history, it's also dripping with wealth. As Mic has previously reported, Trump's pick for education secretary has an estimated family net worth of $5.1 billion, and his commerce secretary choice, Wilbur Ross, is worth an estimated $2.5 billion — meaning he alone is worth 10 times as much as former President George W. Bush's entire cabinet. Rex Tillerson, Trump's pick for secretary of state, clocks in at an estimated $150 million. And Steve Mnuchin, Trump's pick for Treasury secretary, clocks in at $40 million.
How's draining that swamp coming along?