When will marijuana stores open in Nevada? Despite being legal, it's going to be a while.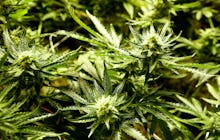 In November 2016, voters in Nevada approved an initiative to legalize recreational marijuana for adults 21 and over. 
But while it may now be legal to possess up to one ounce of pot, dispensaries selling cannabis for non-medical purposes may not be open until at least June as the state legislature works to establish guidelines for recreational facilities. 
"Most people think it'll be legal to purchase marijuana on [Jan. 1] but unfortunately that's not the case," State Sen. Tick Segerblom, who in 2013 helped establish medical marijuana facilities in Nevada, told the Las Vegas Sun. 
Once dispensaries do open for business, it will be as easy for eligible adults to buy marijuana as it is for them to buy alcohol, according to the Sun. However, as long as the plant remains illegal under federal law, consumers must pay with cash as dispensaries do not accept credit cards. 
Individual counties still have the right to prohibit dispensaries from opening within their jurisdiction and 12 of the state's 16 counties currently ban medical marijuana facilities, the Sun reported. The number of licenses in counties where dispensaries are allowed will be based on population. Clark County, home to Las Vegas, will be awarded up to 80 recreational licenses — good for dispensaries, cultivation and production centers — while smaller counties could receive as few as two permits, depending on their size.
Additional restrictions remain for residents of the Silver State who want to grow marijuana themselves. No one who lives within 25 miles of the nearest dispensary will be allowed to grow their own plants — leaving Las Vegas residents out of luck. However, those living in rural areas can grow up to six marijuana plants per person and up to 12 per household, according to the Sun.