What time is Sherlock season 4, episode 3 on PBS?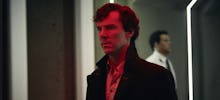 Sherlock fans, you have one last opportunity to catch London's greatest detective before he takes what likely will be an extended hiatus. The fourth season of Sherlock has thus far been stellar, with the last episode finally answering that burning question: Who is the third Holmes sibling? 
The fourth season finale, aptly titled, "The Final Problem," is right around the corner, so here is how you can make sure you do not miss a single second of the action. 
When should I set my DVR?
As always, Sherlock will be airing on PBS in the United States as part of the network's Masterpiece series. But here is where you need to be careful. Rather than airing at its usual time, season four, episode three of Sherlock will be airing at 7 p.m. Eastern. According to TV Guide, the episode will run for two hours until 9 p.m., so set your DVRs accordingly. Should you forget, remember you can catch the episode after it airs on PBS' website, here.
Synopsis and trailer for "The Final Problem"
Should you need any more motivation to watch the final episode of Sherlock's fourth season, check out the official synopsis from PBS, and the trailer for "The Final Problem," below:
In the final episode of this new season, long buried secrets finally catch up with the Baker Street duo. Someone has been playing a very long game indeed and Sherlock and John Watson face their greatest ever challenge. Is the game finally over?
Mic has ongoing coverage of Sherlock. Please follow our main Sherlock hub here.