Indiana legislators are proposing an all-out abortion ban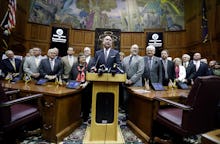 Legislators in the Indiana House of Representatives have proposed a bill that would reverse existing state laws making abortion legal. The legislation, House Bill 1134, maintains human life begins the moment "a human ovum is fertilized by a human sperm," creating conditions under which having an abortion would be legally defined as committing murder.
State Rep. Curt Nisly read the bill for the first time on Monday, at which time it was passed along to the House Committee on Public Policy for consideration.
"Anyone can challenge any law," Nisly told the Associated Press, according to the Chicago Tribune's report. "The intention of this bill is solely to stop the killing of humans after they are alive." 
If it passes, the law would go into effect on July 1. 
Indiana's current abortion laws come with several anti-abortion restrictions, including those that require people to receive counseling before terminating a pregnancy and to wait at least 18 hours after the counseling to receive the procedure. Abortions after 20 weeks can only be performed if the pregnant person's life is at risk. In July, Vice president-elect Mike Pence, then-Indiana governor, tried to implement a law requiring the burial or cremation of aborted fetuses. 
Nisly's bill has already been met with considerable opposition from pro-choice advocates, starting with a 3,000-signature petition the Indiana Reproductive Justice Coalition delivered to Gov. Eric Holcomb's office on Wednesday.
It's likely these activists will have their way — as it stands, the anti-abortion legislation doesn't have a good shot at surviving as a law. 
While state lawmakers like Nisly may be feeling confident that having an incoming president keen on overturning Roe v. Wade is their golden opportunity to propose extreme restrictions on abortion, the fact is, the ruling is still in effect.
But some supporters of Nisly's abortion ban believe his bill could expedite the process of reversing the 1973 landmark ruling. According to the Tribune, their best-case scenario is for opponents to challenge the law until it reaches the Supreme Court, leading to the repeal of Roe v. Wade. 
Indiana House Speaker Brian Bosma admitted to being wary of taking on such a lengthy legal battle, his central basis for opposing the legislation.
Reproductive rights activists, though, see an even steeper cost: people's lives. Banning abortions doesn't affect people's decisions to have them — it just restricts people's ability to have them safely. Many end up taking matters into their own hands, or into the hands of unskilled abortion providers. 
According to the World Health Organization, 67,000 women die annually from unsafe abortions. 
Wanda Savala, community engagement coordinator for Planned Parenthood of Indiana and Kentucky, told the Tribune she hopes Indiana legislators take this caveat into consideration.
"It's time for our lawmakers to heed their constituency," she said. "We know firsthand that access to health care, and reproductive health care in particular, is an urgent issue."