Ashley Graham's daring new photoshoot proves that plus-size models can do high fashion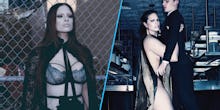 When you've seen Ashley Graham before, she may have been posing in sophisticated dresses for Dressbarn, or maybe she was in a bra and jeans for Lane Bryant, or perhaps she was in some sort of tropical location, posing in a bikini.
But in a new photo shoot for V magazine, the America's Next Top Model panelist is in black lingerie, fishnets and capes, with her eyebrows bleached. In one shot, she physically lifts a man while wearing Balmain. In another, she appears to be holding a man hostage while wearing little else but face paint. 
It's a side of Graham we haven't seen before, and the media is puzzled. Entertainment Tonight called the shoot "bizarre." USA Today called it "brave." Fox News called it "strange."
What could be striking these outlets as "weird" is, of course, Graham's styling, which is quite the departure from how we've typically seen her. But what's also unfamiliar to them, whether they know it or not, is that Graham, a woman who's a size 16, is taking part in an extremely cinematic, high fashion shoot, something very few other plus-size models have done before. 
For Graham, it's a small leap, but for other plus-size models like her, it feels a giant one. 
It's something that's certainly not been lost on her Instagram followers. As Graham posted images from the shoot on her account, followers immediately took note that Graham was bucking this idea that plus-size women aren't high fashion and couldn't pull off a shoot about a vengeful woman who wears Balmain. 
"THIS. IS. HUGE. you are making it possible for Models like me to not only be Catalogue!!" one commenter wrote. "I can be high fashion too." Another: "You are changing the game girl!" "She's changing the game YESSSS," another follower echoed. 
These days, plus-size and curvy models are relegated to a few very mainstream, accessible brands, like Lane Bryant, H&M or Dressbarn. So in posing in this sort of avant-garde shoot photographed by Steven Klein, who's known for his dark, intense and entirely unrelatable photographs, Graham's once again breaking the mold. 
You can check out Graham's entire shoot and interview with V here.