These are the next major US elections to look out for in 2017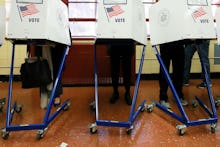 Since losing the presidential election in 2016, the Democratic leaders have discussed the need to strengthen the party "from the ground up" and reassert itself in state and local contests.
This year presents a slate of opportunities for the party to do just that, with important elections across the country at the federal, state and municipal levels. Most of these will be decided Nov. 7, 2017.
Here is what to pay attention to this year:
2017 federal elections
There will likely be six special elections in 2017 for the U.S. Congress. Five of those races would be to replace representatives or senators leaving their post to take a position in the Trump administration: Rep. Tom Price of Georgia's 6th district; Rep. Ryan Zinke of Montana; Rep. Mick Mulvaney of South Carolina's 5th district; Rep. Mike Pompeo of Kansas' 4th district; and Sen. Jeff Sessions of Alabama.
The sixth race would be in California's 34th district. Democrat Xavier Becerra, who has been a representative in the state since 1993, was selected by Gov. Jerry Brown to be the state's next attorney general.
2017 state elections
Perhaps the most notable 2017 statewide race is one that might not even happen.
In November, a federal court ruled that Republicans in North Carolina had unconstitutionally gerrymandered the legislative map to pack African Americans and Hispanics into just a few voting districts; according to election scholar Andrew Reynolds, the state "can no longer be classified as a full democracy" due to the racially-gerrymandered elections.
The panel of judges threw out 28 state congressional elections, and ordered a redrawing of the legislative districts and a special election in 2017. But this week, the U.S. Supreme Court temporarily delayed the decision so justices could hear an appeal from state officials Jan. 19. As Raleigh's News & Observer reported, the court could then dismiss the appeal and keep the lower court's order, or they can set arguments for later in 2017, making a special election this year unlikely. 
New Jersey and Virginia will each hold statewide elections in 2017. 
In New Jersey, all 80 seats in the statehouse are up for grabs; the Democrats, who currently control 52 of them, have held a majority in that state's general assembly since 2001. Gov. Chris Christie, an ally of President-elect Donald Trump mired in the 2013 Bridgegate scandal, is term-limited and ineligible to run for reelection in 2017. Christie's unpopularity in the state may pose a problem to Republicans and open the door to Democrats, whose primary will likely pit John Wisniewski, a Bernie Sanders-supporting assemblyman, against frontrunner Phil Murphy, a former ambassador to Germany under President Barack Obama, the Record reports.
In Virginia, all 100 seats in the House of Delegates are open. Republicans, who have had a majority in the state since 1999, currently hold 65 seats. Democratic Gov. Terry McAuliffe faces a term-limit and will not be eligible for reelection. Lieutenant Gov. Ralph Northam and former Rep. Tom Perriello are running on the Democratic side, while Trump's upset victory in November will likely factor into the Republican primary in the state. 
2017 municipal elections
A number of major cities will be holding mayoral elections in 2017 – including New York City.
Mayor Bill de Blasio will seek reelection – almost certainly without a primary challenge from Hillary Clinton. The mayor has already clashed with the president-elect, who is from New York, and at least one Trump ally has announced intentions to run.
Other major cities holding elections in 2017 include Los Angeles, Dallas and Boston.
DNC Chair
While not an election in the typical sense, the Democratic National Committee will elect its new chairperson in February.
Rep. Keith Ellison emerged as the early frontrunner for the role, but he has several challengers, including current Secretary of Labor Tom Perez, who announced in a Mic exclusive that he was seeking the chair.
The leader will be tasked with crafting a party vision going forward in the wake of Trump's unlikely victory in November.