Super Bowl contenders 2017: Who's likely going to the big game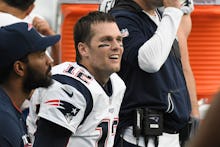 Whether you watch it for the game, the commercials, or are simply roped into a viewing party because you didn't want to spend the day alone with your cat, most Americans are going to tune into the Super Bowl. It's one the most-watched television events of the year, a cultural phenomenon that can't be stopped, no matter how dangerous the sport may be for its athletes. 
So when you're not thinking about the permanent brain damage American football could cause, perhaps you're wondering about something more innocuous, like who will win this year's Super Bowl. There are a few contenders — eight, to be exact — and all of them but the Houston Texans and their god-awful quarterback should stand a good chance to win this year. 
But, if we had to guess, who is most likely to win the Super Bowl in 2017? According to betting site OddsShark — and they do this stuff for a living — the New England Patriots have the best shot at winning the Super Bowl, followed by the Dallas Cowboys and Green Bay Packers. 
You can check out the full Super Bowl odds, per OddsShark, below: 
New England Patriots: +180
Super Bowl 2017 takes place Sunday, Feb. 5 at 6:30 p.m. Eastern on Fox.