State attorneys general are leading the resistance against Donald Trump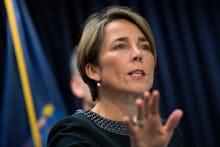 President-elect Donald Trump is set to take the oath of office on Friday, striking fear in Americans who don't support his positions on immigration, abortion rights and health care — among many others. Those fears, though, at least in states where people largely opposed the incoming president, are spurring action among a certain class of state officials: attorneys general.
Among them, Massachusetts Attorney General Maura Healey has been seeking to calm residents of her state, saying she'll use her role as the Bay State's top law enforcement officer to fight any of Trump's policies that she feels either violates the Constitution or bodes ill for Massachusetts residents.
"I look at my role as a state attorney general as the first line of defense if the Trump administration decides to make good on certain campaign promises that are unlawful or unconstitutional, and that adversely impact people in this state and across the country," Healey said in an interview. "We will be there to take action."
She brought up specific proposals, such as Trump's proposed immigration laws and cuts to environmental protections as areas she's prepared to sue on, saying she hears "real concern from people about threats to the progress that has been made" in those areas. 
Healey isn't the only Democratic state attorney general who has vowed to use her position to challenge Trump. Other attorneys general have pledged to fight his administration's overreach through the court system on policies and actions they feel will hurt residents of their state and the country writ large.
In New York, Attorney General Eric Schneiderman challenged Trump throughout his election campaign, including opening a fraud inquiry into Trump University that helped past attendees earn a massive $25 million settlement and investigating alleged impropriety at the Trump Foundation.
In California, Attorney General nominee Xavier Becerra — who looks poised to succeed newly sworn-in Democratic Sen. Kamala Harris in the role — vowed during his confirmation process to take on Trump if he seeks to carry out mass deportations, implement a Muslim registry or attack environmental protections.
"As California's chief law enforcement officer and legal advocate, I am going to be ready to deploy those values and life lessons to advance and defend the rights — big and small — of all Californians," Becerra told a panel of state legislators during his confirmation hearings last week, according to the Los Angeles Times. "Everyone who plays by California's rules deserves to know, 'We've got your back.'"
But Healey has taken an outsized role, holding town halls across Massachusetts to assure weary residents of the actions she and others can take to prevent Trump from "rolling back" issues President Barack Obama tackled during his eight years in the White House. 
Hundreds of people have shown up to the town halls, Healey said, adding that attendees have expressed "tremendous anxiety, tremendous concern and frustration."
During those meetings, Healey said she reminds voters that "there are some basic principles that we make sure our leaders adhere to" — and that she is not afraid to use the court system to ensure those principles are followed.
"States have been in the position before where we have taken on and sued the federal government," Healey said. "I don't welcome that or the specter of that, but we need to be prepared to act if Donald Trump and his Cabinet don't do their jobs."
If, down the road, Healey or her other fellow Democratic attorneys general end up suing the Trump administration, they'd be taking a page out of the GOP's playbook. Many Republican attorneys general sued the Obama administration when it transgressed their conservative orthodoxies.
Texas Attorney General Ken Paxton, for example, sued the Obama administration numerous times over policies he disagreed with, including immigration policy, worker protections and rules allowing transgender Americans to use bathrooms corresponding with their gender identity, rather than gender they were assigned at birth.
Now that there is a Republican in the White House, as well as a Republican-held Congress, to help usher in a new agenda, Healey said Democratic attorneys general could do the same.
"A number of us have spoken about the importance of the role of the state attorney general at this time, to make sure that laws are enforced that the rule of law is upheld and that we're taking steps to ensure that there is integrity in our systems and that government is working for people," Healey said. "And it's really, really important because a lot of our efforts that have been made to protect constituents ... have now been called into question, or the president-elect has said he doesn't support them and has said he will work to undo them."