How much marijuana can you possess in Massachusetts? Here are the restrictions.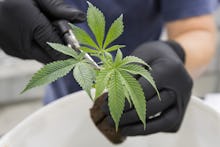 After the passage of a November ballot measure, recreational marijuana is now legal in Massachusetts. And while state lawmakers voted to delay the opening of recreational marijuana stores until June 2018 — which still makes it technically illegal to sell marijuana — possessing, consuming and growing marijuana is now allowed under state law.
But legalization in Massachusetts does not come without restrictions. Here's what you need to know about the law's limitations, as specified in the text of the Regulation and Taxation of Marijuana Act, before enjoying the benefits of the new law.
How much can you possess?
According to the Regulation and Taxation of Marijuana Act, it is now legal for residents aged 21 and over to possess, use, purchase, process and manufacture up to one ounce of marijuana. No more than five grams can be in the form of marijuana concentrate, which the law defines as "the resin extracted from any part of the plant of the genus Cannabis and every compound, manufacture, salt, derivative, mixture or preparation of that resin but shall not include the weight of any other ingredient combined with marijuana to prepare marijuana products." 
Residents, the law states, can possess up to 10 ounces of marijuana in their personal residence; however, any amount over one ounce must be secured by a lock. The law also allows residents to assist other adults over the age of 21 with marijuana purchase, manufacture, use or possession, and also makes it legal for a Massachusetts resident to give away or transfer up to one ounce of marijuana to another adult. Any transfer, however, must be "without remuneration," and cannot be "advertised or promoted to the public."
The act also now allows the possession, purchase and manufacturing of marijuana accessories, which the law defines as "equipment, products, devices or materials of any kind that are intended or designed for use in planting, propagating, cultivating, growing, harvesting, manufacturing, compounding, converting, producing, processing, preparing, testing, analyzing, packaging, repackaging, storing, containing, ingesting, inhaling or otherwise introducing marijuana into the human body."
Where can I use it?
Once Massachusetts residents have their legal marijuana, however, there are some restrictions on where they can use it.
No person, the act stipulates, can consume marijuana in a public place or anywhere where smoking tobacco is prohibited. Once recreational sales have begun in 2018, marijuana usage will be allowed in the designated usage areas of marijuana establishments in municipalities "that have voted to allow consumption on the premises where sold and shall not be construed to limit the medical use of marijuana."
The law also specifies that individuals cannot consume or hold marijuana and marijuana accessories on public or private school property where children attend preschool, kindergarten or grades 1-12, or on the property of a correctional facility.
The law also has strict restrictions on marijuana usage and motor vehicles. Residents cannot consume or be impaired by marijuana or a marijuana product while "operating, navigating or being in actual physical control of" any form of motorized transportation or machinery. The law also specifically prohibits possessing an open container of marijuana in the passenger area of a motor vehicle, which is defined as "the area designed to seat the driver and passengers while the motor vehicle is in operation and any area that is readily accessible to the driver or passenger while in a seated position."
Employers, the law specifies, also still have the authority to "enact and enforce workplace policies" that restrict marijuana usage.
Who can grow it?
Massachusetts cannabis enthusiasts who choose to grow their own plants will also face restrictions under the Regulation and Taxation of Marijuana Act. Residents can have up to six marijuana plants for personal use at their primary residence, the law dictates, but a household cannot grow more than 12 total marijuana plants at once. In total, residents may possess up to 10 ounces of marijuana and any marijuana that is cultivated by the plants on their premises at their primary residence.
Marijuana plants must be processed in an area that is "equipped with a lock or other security device." The law also states that the plants cannot be visible "from a public place without the use of binoculars, aircraft or other optical aids."