'Deadpool' and Ryan Reynolds beautifully troll a "For Your Consideration" awards video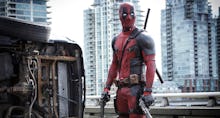 It is safe to say that there have been few movies, if any, like Deadpool. The breakout hit about an irreverent, foul-mouthed and, frankly, murderous anti-hero took audiences by storm when it was released in February 2015. The Ryan Reynolds-starring movie broke away from conventional genres, essentially poking fun at all of them, because that is what Deadpool does best. The result was an R-rated romantic comedy with the violence and language of a Scorsese picture. 
Deadpool perfectly captured the comic book character's wit, demeanor and tendency to break the fourth wall, thus staying true to what Wade Wilson is: a caricature of a traditional comic book hero. Critics and fans alike responded with enthusiasm, and the film rode its 84% (90% from users) on Rotten Tomatoes all the way to an R-rated record of $783 million worldwide. 
Reynolds and the rest of the Deadpool team are hoping that the goodwill leads to an Academy Award nomination. To beef up their cause, they have done what they do best: poke fun at the entire process, with a hilarious "For Your Consideration" video. 
You can check out the video from Reynolds' Twitter, below:
It should come as no surprise that Deadpool's "For Your Consideration" video is nothing like one you would see from other award hopefuls like Manchester by the Sea, Moonlight or La La Land. Deadpool has operated in its own unique way since before its release. 
Even Deadpool's ad campaign was far from traditional. From knocking Mario Lopez to the ground to a Valentine's Day-themed billboard, Deadpool's marketing took things in a whole new direction. The film even celebrated the days leading up to Christmas in a video dubbed "12 days of Deadpool."
You can check that video out below:
Awards season is already in full swing, and Deadpool has proved itself popular among crowds that rarely reward comic book adaptations. Remember when The Dark Knight, one of the best films of 2008, failed to receive a best picture nomination? But Deadpool has received top nominations from the Golden Globe Awards, the Producer's Guild of America and the Writer's Guild of America. 
So, the question is whether Deadpool will be recognized one last time by the Academy Awards in a major category when nominations are announced on Jan. 24. If you want to see more hilarious videos, you better keep your fingers crossed!
Mic has ongoing coverage of the Academy Awards. Please follow our main Academy Awards hub here.