Donald Trump is historically unpopular a week before his inauguration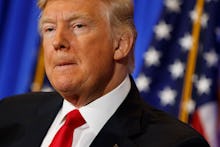 More than half of the country views President-elect Donald Trump unfavorably, according to a new Gallup survey, making him the most unpopular incoming president since Gallup began tracking presidential transitions.
In the early January survey, 51% of adults living in the United States disapprove of the way Trump is handling his transition, an increase from the last time Gallup asked the question in December. 
For comparison, just 12% disapproved of President Barack Obama's transition in 2009, 25% disapproved of President George W. Bush's transition in 2001 and 18% disapproved of President Bill Clinton's transition in 1993. 
Trump's transition approval could hobble his incoming administration as they seek to quickly implement his agenda.
Such low approval ratings mean Americans are already over the so-called "honeymoon period" — where political leaders have a longer leash to get things done because the population's feelings toward the leaders are high.