Snapchat Update: How to use the new search feature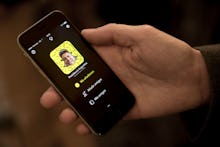 A new Snapchat update has enhanced the app's search feature to make it more user-friendly. The update rolled out to some Android users on Thursday and is slated to roll out for all Android and iOS users in the near future, TechCrunch reports.
What is the Snapchat update?
Snapchat has added a universal search bar where users can search through the entire app.
What does this mean for the user?
Essentially, this means navigating the app and finding content is a lot easier. Using the search bar will bring forth friends, groups, publishers on Discover and Our Stories. Say, for example, you want to find a friend's thread and story. By typing their name in the bar, Snapchat will pull up both and you won't have to swipe through the stories page and your personal feed.
What does this mean for Snapchat?
For the app, this feature could translate to monetization. According to TechCrunch:
With universal search also comes new revenue opportunities. Snapchat could potentially let advertisers pay for sponsored placement atop search results, or as suggestions in the search interface. This could allow Snapchat to directly monetize the desire of brands to build an audience on its network. When asked if ads were coming to search, the company declined to comment on future plans.
How to use the new search feature
The search bar is located at the top of the app — you can use this function while your Snapchat camera is open. When you get ready to type into it, the rest of your screen will showcase a "Quick Chat" section with Bitmoji of frequent accounts you interact with, "Groups" further below that, and "New Friends."
Should what or who you are looking for not be there, you can start typing a name and friends and groups will pop up accordingly. By selecting a friend, you can begin chatting or by clicking their "Story thumbnail" you can start watching their stories. Similarly, users can also search for Discover channels in the search function.