'Legend of Zelda: Breath of the Wild' Master Edition: Price and everything you get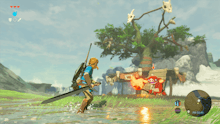 Nintendo die-hards are flipping out over The Legend of Zelda: Breath of the Wild, the massive open-world game that will grace the Nintendo Switch launch on March 3. If you're a Zelda superfan, you can opt to shell out a larger sum for the extra-special master edition of the game, which comes with a Giant's Wallet's worth of bonuses.
To see what you get for $129.99, keep on reading.
Breath of the Wild Master Edition for the Nintendo Switch: Here's what's inside
The most hardcore Zelda fans who buy this will get a cornucopia of goodies. Obviously, you get the game. It wouldn't be worth much if it didn't come with that. You also get a bonus soundtrack CD and a commemorative coin with the Sheikah Eye symbol on it.
It gets even geekier. The package also comes with a physical map that you can unravel to see the game world on a parchment-like texture. Additionally, you'll get a Zelda-themed carrying case for your Switch console.
The big kahuna in the master edition bundle is a fairly large statue of the series' iconic master sword in its pedestal. Put this bad boy on your coffee table or mantle and nobody will ever question your devotion to Zelda ever again. (If you don't want the statue, the cost falls to $99.99.)
Nintendo Switch news, features, games, price, pre-order and more
For more info on what Nintendo revealed during its livestream, here's where you can get details on the Nintendo Switch price, release date, pre-orders and battery life. If you're interested in the Nintendo Switch's games, here's info on the new Super Mario Odyssey game, Legend of Zelda: Breath of the Wild, Splatoon 2, Xenoblade Chronicles 2, 1-2-Switch and the goofy boxing game Arms.