When and where to watch the 'Victoria' premiere on PBS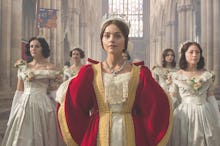 Ever wonder what teenage Queen Victoria must've gone through when she was crowned in 1837? Starting Jan. 15, you can began to watch the young queen's trials and tribulations on the new PBS Masterpiece series, Victoria, which started airing on Britain's ITV in August 2016. 
For double Anglophile fun, the show not only centers on a British monarch but stars Jenna Coleman of Doctor Who fame, too. Of course, if you're a hardcore Doctor Who fan, you may not be pleased to know that she quit the show to play Queen Victoria, but you might just change your mind after watching the premiere. 
Other standout actors who appear in the series include Rufus Sewell (The Man in the High Castle, Zen, The Pillars of the Earth) and Tom Hughes (Page Eight, Dancing on the Edge). They play Lord Melbourne, Queen Victoria's first prime minister, and Prince Albert, Queen Victoria's husband, respectively.
When and where to watch
Victoria season one, episode one will air on PBS stations on Sunday, Jan. 15 at 9 p.m. Eastern. The TV-PG show lasts 120 minutes. According to the PBS synopsis, the premiere features Victoria starting out in her new role as queen, which naturally means dealing with her family's interference. 
You can catch a new episode every Sunday through March 5 — except for Feb. 26. 
Here's a first look at the series in an exclusive PBS clip: