Will Netflix renew 'A Series of Unfortunate Events' for season 2? Here's what we know.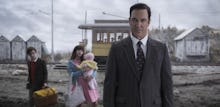 You can now watch the first season of Netflix's new original series, A Series of Unfortunate Events, on the streaming platform. The series, based on the book franchise of the same name, comes over 12 years after the Jim Carrey-starring film adaptation failed to generate enough business to warrant a sequel. (The movie, made on a reported budget of $140 million, only grossed over $200 million worldwide.)
Even though the series has been available for mere hours, reviews are already coming in, and they are mostly positive. Could the early positive reception be enough for Netflix to green-light a second season? Not necessarily, but the producers are prepping for one. 
Daniel Handler, the author of the books and a producer on the series, discussed a season two with Entertainment Weekly:
"I am deep in season two. I've been working in my own dining room with a team of writers I'm really loving on the next season, and we hope to get the go-ahead to do season three, which... given how quickly young actors age and change, we're trying to film everything as quickly as possible. The second season is laid out to be 10 episodes for the next five books, so it ends on 'The Carnivorous Carnival,' and the third season would be the rest of it."
While Handler's comments are a strong indication that a season two of A Series of Unfortunate Events will eventually happen, do not be misled. 
"We're planning to do more, but we haven't been green-lit to do more," Barry Sonnenfeld, an executive producer and director on the series, told Variety.
Sonnenfeld did confirm there are scripts already "being written for the second season. We have the stages on hold, so we're optimistic."
While a second or even a third season of A Series of Unfortunate Events is no guarantee, the producers' continued planning indicates their optimism. Of course, if you hope to see more seasons of A Series of Unfortunate Events, the best thing you can do is binge, binge and binge some more. 
Mic has ongoing coverage of Netflix's A Series of Unfortunate Events. Please follow our main A Series of Unfortunate Events hub here.