'The 44th President: In His Own Words': When and where to watch the Obama history special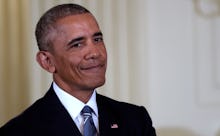 Just days before President Barack Obama finishes his second term, the History Channel will premiere The 44th President: In His Own Words. The two-hour special presents Obama's recollection of his White House service. It touches on his triumphs, as well as his failures. Specifically, Obama mentions his challenges with Congress, dealing with race relations issues and even shares how he believes the Trump presidency will shape his legacy. 
If you've been wondering about some of Obama's most candid thoughts, this one-on-one TV interview promises a comprehensive look into his mind. The 44th President also has interviews with Vice President Joe Biden, Secretary of State John Kerry, Secretary of Treasury Tim Geithner, Attorney General Eric Holder, National Security Advisor Susan Rice and other notable members of Obama's staff, as well as Congress and the press. 
When and where to watch
The 44th President: In His Own Words will premiere on the History Channel on Sunday, Jan. 15 at 9 p.m. Eastern. According to TV Guide, the special will also air at 1:07 a.m. on Monday, Jan. 16 and 8:00 a.m. on Friday, Jan. 20. Here is the official promo for the special: