Trump Inauguration 2017: Toby Keith, 3 Doors Down to perform Jan. 19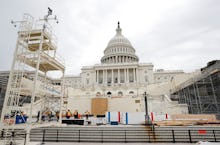 Update: Broadway star Jennifer Holliday has pulled out of the Jan. 19 Make America Great Again! Welcome Celebration inauguration event. She explained her decision in an open letter shared via the Wrap, offering a heartfelt apology to the LGBT community:
I sincerely apologize for my lapse of judgement, for being uneducated on the issues that affect every American at this crucial time in history and for causing such dismay and heartbreak to my fans.
Mic's original story appears below:
President-elect Donald Trump needed a superman (or perhaps more appropriately an ubermensch) to save his inauguration from being a silent, music-less bomb. It seems he's found the next best thing: a band that once sang a early '00s hit called "Kryptonite." 
Friday, Trump's inauguration team announced three of their biggest, non-cover bands, gets to date for the upcoming inauguration festivities. Artists 3 Doors Down, Toby Keith and Broadway star Jennifer Holliday are set to perform Trump's Jan. 19 Make America Great Again! Welcome Celebration outside of the Lincoln Memorial. 
Several smaller names will also join them, including The Piano Guys, Lee Greenwood, RaviDrums and The Frontmen of Country, which a press release explains as "featuring Tim Rushlow, former lead singer of Little Texas, Larry Stewart of Restless Heart and Richie McDonald of Lonestar."
The event is open to the public and will reportedly feature "historic remarks from President-elect Donald J. Trump."
"President-elect Trump has made it clear that this inaugural is of, by and for the American people," Chairman Tom Barrack of the inaugural committee said in a statement. "The 58th Inaugural will celebrate American history and heritage, while setting the course to a brighter and bolder future for all Americans. Above all, it will serve as tribute to one of our greatest attributes, the peaceful transition of partisan power."
Many on Twitter weren't exactly ready to see some of the artists contribute their music to usher in said transition. At least one former fan has shared that they deleted their once cherished 3 Doors Down catalog.
Considering how divisive this election has been and, more specifically, how politicized the simple process of finding inaugural talent has proved, none of these artists should be surprised by the backlash. They'll likely have some words coming from Snoop Dogg. The rapper promised to roast any artist that agrees to perform at the inauguration.
Keith and 3 Doors Down now join Jackie Evancho, the Mormon Tabernacle Choir and the Rockettes in the inaugural festivities to round out the "tremendous" talent, Trump promised for the festivities. Compared to President Barack Obama's 2009 inaugural line-up — which featured Bruce Springsteen, Mary J. Blige, Garth Brooks, U2, Usher and Stevie Wonder — Trump's show should be fine, or something.
Jan. 15, 2017, 11:01 a.m.: This story has been updated.