#DontNormalizeHate PSA shows parallels between Muslim registry and Japanese internment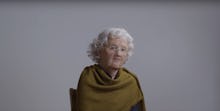 #DontNormalizeHate, a public service announcement warning about the similarities between President-elect Donald Trump's plans for a Muslim registry and Japanese internment camps, was released on Thursday.
The short film, produced by Grammy-nominated singer Katy Perry and Los Angeles-based producer Mari Rivera, had one simple message: Don't let history repeat itself. 
The PSA begins with the story of 89-year-old Haru Kuromiya, a native-born Californian of Japanese descent, who was forcibly removed from her home in Riverside, California, and placed into the Manzanar internment camp. Kuromiya is one of the approximately 120,000 Japanese-Americans forced into internment camps under President Franklin Delano Roosevelt's Executive Order 9066, which was issued during World War II.
Kuromiya describes her childhood and explained how placement in internment camps initially began with a federal registry of people of Japanese descent living in the United States.
"It all started with fear and rumors," Kuromiya said. "Then it bloomed into the registration of Japanese-Americans and then labeling with the physical tags and then eventually the internment."
"We were an American family now living in an internment camp," she said. "Our constitutional rights were taken away from us."
Then something surprising happens. Kuromiya peels off prosthetic makeup to reveal that she's actually Muslim and Indian actress Hina Khan. The reveal establishes a clear connection between the horrors of the internment of Japanese-Americans to Trump's plans to monitor and track people from Muslim-majority countries living in the U.S.
The two-minute video, co-directed by Japanese-Australian director Aya Tanimura and Tim Nackashi, provides a wake-up call to Americans about Trump and his advisers' threats against the Muslim-American community. In November 2016, Trump adviser Kris Kobach confirmed that the incoming administration is considering plans to establish a database to track the national origin of millions of Muslim-Americans. Rudy Giuliani, who is serving as Trump's cybersecurity adviser, proposed using electronic tagging devices on Muslims living in the U.S.
Tanimura told the Los Angeles Times that Perry paid for the prosthetic makeup used to reveal Khan's identity and has been committed to elevating the voices of "the underdog."
"Katy has always been a champion of the underdog, of minorities, of the people who are kind of left of center, and she's become more politically involved in the last few election cycles," Tanimura said.
"I think like a lot of us who are terrified of Trump's ideals and policies, she is too," Tanimura added. "And this is one instance where she's able to help educate someone — even one person — on the horrors of the past and what could potentially be repeated."
You can watch the full PSA below: