'Logan': Hugh Jackman takes to Twitter to reveal the synopsis for his final Wolverine film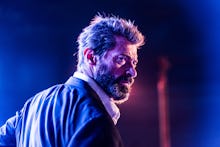 Slowly but surely we are beginning to get a clearer picture of Logan, Hugh Jackman's final outing as arguably the X-Men's most popular character, Wolverine. Details regarding the film's ultimate plot have remained somewhat cryptic, though they were made clearer following the release of the film's first trailer in October. 
We know from the trailer that Logan, which will see its worldwide premiere at the Berlin Film Festival, will follow an aging Wolverine who is caring for a sick Professor X (played by Patrick Stewart) in a time where Mutants are becoming more scarce. We also know that Laura Kinney/X-23, the popular Wolverine clone, will be played by Dafne Keen and feature prominently in the film.
Outside of the information gleaned from the trailer, we have seen the release of several images, both in color and black and white, on both Hugh Jackman's and James Mangold's Twitter accounts, mostly highlighting the grim setting of the film.
While we surely would love to see another trailer for Logan, we can settle, happily, for the film's official synopsis, which Hugh Jackman recently released on his Twitter page. The synopsis reads as follows:
In the near future, a weary Logan cares for an ailing Professor X in a hideout on the Mexican border. But Logan's attempts to hide from the world and his legacy are upended when a young mutant arrives, being pursued by dark forces. 
Though this synopsis does not add much to what was already known, it still generates a sense of excitement (at least for this author) for the already highly anticipated Logan. Following its premiere at the Berlin Film Festival, Logan will be released domestically on March 3. 
You can check out the first trailer for Logan below: