'Pokémon Stars,' 'Super Smash Bros' for Switch and other games Nintendo hasn't confirmed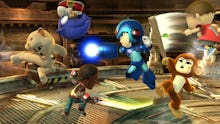 This week's Nintendo Switch reveal event didn't disappoint, with plenty of exciting announcements about the brand-new console. However, a few games that had been rumored to appear didn't show up. We're still waiting for Pokémon Stars and that Super Smash Bros. port for Switch.
What gives?
The true answer is (probably) that none of these games were ready to show quiet yet. Nintendo will likely show them later this year, possibly at E3. That said, here are a few of the biggest no-show games we're dying to see confirmed for Switch.
Super Smash Bros. for Nintendo Switch: Not yet
We've been hearing for a while that a new version of the most recent Super Smash Bros. game is being prepped for Switch, possibly even with new characters. As you can guess, it wasn't even hinted at during Nintendo's Switch event this week.
Perhaps Nintendo felt that showing both Smash Bros. and Mario Kart would be re-release overkill. Maybe it just doesn't exist (however unlikely that is). All we know is that we don't know where it is right now.
Pokémon Stars: Can't catch 'em all on Nintendo Switch for now
Another heavily rumored Switch game is Pokémon Stars, an HD re-release of recently released 3DS games Pokémon Sun and Moon. Again, it was nowhere to be found in Nintendo's Switch event.
This one makes a bit more sense. Pokémon Sun and Moon are likely still selling copies on 3DS, with kids having just gotten it over the holiday season. If Nintendo announces a better version of it coming later this year, it would discourage people from buying it on 3DS.
Beyond Good and Evil 2 for Nintendo Switch
The long-awaited followup to 2003's Beyond Good & Evil is largely assumed to be a Switch exclusive (at least at launch), but we saw neither hide nor hair of it at the Switch event. We still don't even know what it's called.
Since the game apparently just entered pre-production a few months ago, we can assume it'll be a little while before we see it. Perhaps we'll see a teaser at E3.
Nintendo Switch news, features, games, price, pre-order and more
For more info on what Nintendo revealed during its livestream, here's where you can get details on the Nintendo Switch price, release date, pre-orders and battery life. If you're interested in the Nintendo Switch's games, here's info on the new Super Mario Odyssey game, Legend of Zelda: Breath of the Wild, Splatoon 2, Xenoblade Chronicles 2, 1-2-Switch and the goofy boxing game Arms.