Inauguration Activist Winter Wear: How to stay woke and stay warm at the Women's March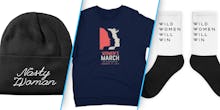 On the day after Donald Trump's inauguration, thousands of people will gather in Washington D.C. for the Women's March on Washington. 
It's not necessarily an anti-Trump march, but it's definitely a pro-women one, with one belief uniting all marchers: Women's rights are human rights. According to early counts, 200,000 people are expected to attend, with hundreds of sister marches planned across the country as well.
Anyone planning on going to a march needs to be prepared. In Washington, the weather on Saturday is expected be sunny with highs in the 60s and lows in the 40s. At a historic march such as this one, you might want to stand out in the crowd in some feminist-leaning merchandise that gives back to organizations that are aligned with the march's platform. 
Here are some suggestions for what to wear if you want to be equal parts warm and woke at the Women's March on Washington.
The hat
Let's start from the top. On the Saturday of the march, it's expected to be sunny but cold and that means you should have on a snuggly hat. 
Luckily, there are quite a few options out there if you decide to make your hat one of your statement pieces. You can get a Nasty Woman beanie from I Feel Like Hillz that gives a portion of proceeds to the National Coalition Against Domestic Violence. A black beret with a patch in honor of working women gives 15% of profits to Women on Wings. The Outrage is donating 100% of the profit from sales of this official-looking Women's March beanie to subsidize travel costs for women at the march. Planned Parenthood is selling an "I Stand with Planned Parenthood" beanie. 
The sweatshirt 
Of course everyone at the march should be wearing a coat, but under that coat, a sweatshirt (worn over yet another shirt) would be a good idea. 
There's a few options for march-affiliated sweatshirts over at the Outrage, which has one emblazoned with the march's official logo and another one with the feminist symbol and a raised fist. For both of these, 100% of profit is going towards the march. 
If you're still really into identifying as a nasty woman, I Feel Like Hillz has a Nasty Woman sweatshirt, with a portion of all proceeds going towards the Women's Media Center. Google Ghost has a Nasty Woman sweatshirt as well, with 50% of proceeds going towards Planned Parenthood. And if you're looking for some retro-inspired feminist goods, Otherwild has sweatshirts with The Future Is Female written across the front, a saying that comes from a shirt that musician Alix Dobkin wore in a 1975 photograph. For that sweatshirt, 25% of profit goes towards Planned Parenthood. 
The long-sleeve shirt 
You may think it's overkill but if you're one of those people who gets cold all the time, wearing a long-sleeve shirt under that sweatshirt, which is under your coat, wouldn't be a bad idea either. 
Over at the Outrage, there's Women's March long-sleeve T-shirts in navy and light blue and as with their other march merchandise, 100% of profits go towards the march itself. 
If you're more concerned with staying toasty than wearing your beliefs on your sleeve, though, you can always go for a Uniqlo heat tech shirt for $19.90.
Scarves
There's not really that many scarves that give back out there, but Planned Parenthood does have a bright pink scarf of its own, which has the organization's name on one side and "I Stand With Planned Parenthood" on the other. 
If you're really looking to be ready for the march while simultaneously giving back, it doesn't get much better than this. 
The leggings 
You never thought there'd be socially conscious leggings, did you? Well here we are. 
Over at the Outrage (yet again) there are actually two pairs of leggings that come packed with a feminist message. On one pair, "Nasty Women Unite" is printed on the calf, with 15% of profits going towards the National Organization for Women. On the other pair, the leggings are printed with a collage of historic newspaper articles on the fight for gender equality, with 15% of profits also going towards NOW. 
Now that's commitment. 
The socks
Finally, let's talk about socks. For any political march, it's critical that your feet stay warm, dry and comfortable. You'll be walking many blocks, so socks are vital. 
For this march, if you're so inclined, there are several different options for slipping some feminist flair inside your shoes. Over at Feminist Apparel, there are a ton of kitschy feminist socks, like a pair that simply says "Motherfucking girl power" and another that read "I'm not bossy, I'm the boss." The Outrage sells pairs that say "Wild Women Will Win" and another with a fist embedded with the Venus symbol. 
There are, of course, other items you should be sure to wear during the march, like a great pair of gloves, which you could try to track down in a bright shade of pink as a nod to Planned Parenthood. Don't forget a good pair of boots or sneakers. 
But with any one of the items above, you'll be sure to fit right into the march, where people will be gathering to make a stand not only for women and their rights in America but for women all over the world.