How to download Android's Nougat 7.1.1 update right now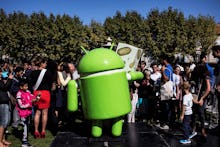 While some smartphones are just getting the Android Nougat 7.0 update and others are still waiting for it, Google has rolled out an update to the seventh variation of its operating system. In December, Google introduced Android 7.1.1 with even more features.
What is Android 7.1.1?
Android 7.1.1 promises to bring "many of the cool features of Pixel to everyone." Key features of the update include new emoji promoting gender equality, a new camera app, app shortcuts and a new Image Keyboard to send stickers, GIFs and other content on apps like Google Allo, Messenger and Hangouts.
How is Android 7.1.1 different from Android 7.0?
Essentially, Android 7.1.1 brought small changes to the updates introduced by the Nougat 7.0 operating system. With Android Nougat 7.0, features included new emojis, quick switch features allowing a more streamlined way to move between apps and a smarter battery. Additionally, Nougat 7.0 allows a handset to run two apps side-by-side — the multi-window view feature has previously been available on Samsung and LG handsets, but it's available on all Android devices with the new update.
When will your phone get Android 7.1.1?
Whether or not your handset will receive the updated version of Android Nougat will depend on the device. Google officially announced certain devices — Nexus 6, Nexus 5X, Nexus 6P, Nexus 9, Pixel, Pixel XL, Nexus Player, Pixel C and General Mobile 4G (Android One) — will definitely receive the most up-to-date software via an over the air software update.
Meanwhile, Samsung rolled out Android Nougat for the Galaxy S7 and S7 edge without the Android 7.1.1 version. Initial reports suggested Samsung would be directly updating the Galaxy S7 and S7 edge to Android 7.1.1 in some markets but the rollout earlier this week revealed users will receive Android Nougat 7.0 with the most recent security patch.