President Trump and the Art of the D-List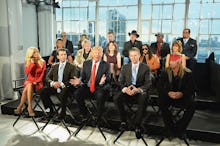 What will Donald Trump's Hamilton look like?
Think back to 2009, when the new president and first lady hosted a White House "Evening of Poetry, Music and the Spoken Word," featuring Lin-Manuel Miranda's performance of a song from what was then a "concept album" called The Hamilton Mixtape. With the Obamas sitting in the front row, snapping along as Miranda rapped about "another immigrant coming up from the bottom," the cultural impact of that moment is pretty hard to overstate. Hamilton didn't just go on to sweep the 2016 Tony Awards — it became an artistic celebration of democracy and diversity that will forever be linked to Obama's presidency.
So, on the eve of Trump's inauguration — for which an embarrassing number of entertainers have publicly refused to perform — you have to wonder: What will his cultural legacy as president be?
Well, if Trump's pre-(and likely post-)presidential career as a reality show personality is any guide, the answer is: strictly D-list.
How perfect that Trump's ascendancy coincides with the (dismal) return of The Celebrity Apprentice, the NBC franchise that established his persona as a tough, decisive CEO who enjoys humiliating fourth-tier celebrities on national television. No shade, but his campaign was similarly low-wattage when it came to celebrity endorsements (Kanye West aside). There was Hulk Hogan, Gary Busey, the one Baldwin brother and Chachi (or Bob Loblaw, depending on your generational point of reference), who got a prime speaking slot at the Republican National Convention.
The Obamas, of course, are a tough act to follow when it comes to cultural cache and their affinity with woke celebrities like Miranda, Beyoncé (who performed at both terms' inaugural celebrations), Laverne Cox and Ellen DeGeneres (who received one of Obama's last Presidential Medals of Freedom).
Meanwhile, along with Elton John, Garth Brooks, Idina Menzel and most recently Jennifer Holliday, the list of celebrities with other plans for Friday even includes alumni of The Celebrity Apprentice — Vince Neil of Mötley Crüe and Gene Simmons of KISS. That leaves Toby Keith, 3 Doors Down, 16-year-old America's Got Talent runner-up Jackie Evancho, country duo Big & Rich, country rapper Cowboy Troy, the Rockettes and the Mormon Tabernacle Choir (the last minus a member who resigned in protest).
If those A-listers don't want to have anything to do with Trump and his White House, well, that's just fine with him. "Look what they did for Hillary," he tweeted, "NOTHING. I want the PEOPLE!"
At last week's press conference, the president-elect almost managed to sound understated when he promised "a very, very elegant" Inauguration Day. (Because if the Trump brand stands for anything, it's elegance — the gold and shiny kind.) 
We can only hope the next four years will also be very, very elegant, with culture-defining moments like Ted Nugent's Rose Garden Whiplash Bash, Sylvester Stallone's Presidential Medal of Freedom and the White House debut of Kid Rock's concept album about the heroic rise of a self-made real estate mogul from Queens.
Throwing Shade premieres at 10:30 p.m. Eastern/9:30 p.m. Central on Tuesday, Jan. 17 on TV Land. Watch the trailer below.