'Sherlock' season 4 finale: How to watch "The Final Problem" in theaters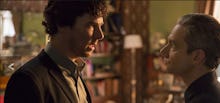 While it may seem like the fourth season of Sherlock is only getting started, there is just one episode left before London's greatest detective takes a break. The first two episodes of the fourth season, "The Six Thatchers" and "The Lying Detective," have set up what is sure to be a thrilling finale. 
The season four finale, appropriately titled, "The Final Problem," will see Sherlock Holmes come face to face with Eurus Holmes, the sibling teased by Mycroft in the season three finale. Considering this may be the last time we see Sherlock for quite awhile, it is understandable if you want to make the most of the viewing experience. 
While you can always watch the episode on PBS (or BBC One for those in the U.K.), if you really want to go big, you can catch "The Final Problem" in theaters. Entertainment Weekly reported in December that the final episode of Sherlock's fourth season will play in select theaters on Monday and Wednesday. This is similar to last year's Sherlock special, "The Abominable Bride," which also had a limited run in theaters. 
How to get tickets for "The Final Problem"
According to EW's report, "The Final Problem" will play in roughly 350 U.S. theaters. To figure out which theater closest to you is playing Sherlock's finale, go to the Fathom Events website and click "buy tickets." At that point, you will be asked to enter your zip code, and then can choose the theater nearest you. You will then be redirected to the appropriate website to buy tickets. Enjoy!
Mic has ongoing coverage of Sherlock. Please follow our main Sherlock hub here.